Have you ever seen a Facebook post (or website page or even an ad) that clearly wants you to take action but doesn't make it easy to do so?
Take this example above, the business is having a special to entice you to schedule a session, but if you see this post in your newsfeed and want to schedule an appointment you'll have to do a little extra work. The extra step to get a phone number might not seem that hard, but sometimes that extra step is enough for the potential client to lose interest, get distracted, procrastinate and forget, or get interrupted. Not everyone is tech-savvy enough to even think about clicking on the business' name to find the number, making it that much harder to take action.
If you want someone to take action to schedule an appointment with you, you've got to make it as easy as possible to do so.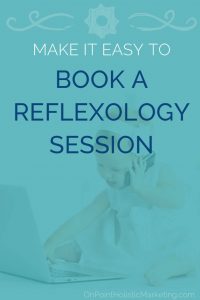 I listened to the audiobook, "To Sell is Human" recently and the author mentioned a study where college students were asked to identify classmates who were most likely and least likely to contribute to a food drive. Both groups were split into 2 segments. One segment of both groups received a generic letter with just the basic details asking them to donate. Not surprisingly zero students in the "least likely to participate" segment contributed to the food drive and 8% of the "most likely" segment donated.
The rest of the students received a personally addressed letter that included a list of suggested items to donate and a map showing the drop off location. They also received a follow-up phone call reminding them about the food drive.
The author Daniel Pink asks, "What mattered more—the disposition of the student or the content of the letters?"
Well, 25% of the students deemed "least likely" but who received the more detailed letter giving specific examples and a map contributed to the food drive. Compare that to only 8% of the "most likely" segment who received a simple, generic letter (and no follow up) we can see how making it easy had a significant increase in the number of people taking action.
And that's what we want for you too: people taking action to book a session with you so you can help them.
Always be thinking about what action you want someone to take and how can you make it easier for them to do so.
[lepopup slug='5-free-graphics-inline']
Once they make that phone call…
Listing your phone number in the example post above is a good start. However, what happens if they call and you are with another client? You hope they leave a message. If they do, you'll call them back and hope they answer. If they don't answer your call, the game of phone tag continues. Hopefully ending with a session booked before they lose interest, forget to return your call, etc.
It's important to think through this process too and find ways to streamline it if you can. Are you leaving general messages or are you giving them specific times and instructions to get you connected and them booked sooner? Of course, giving too many details and options in a voicemail isn't good either. You need the right balance of simple yet efficiently helpful.
Or have you looked into online booking options? Or another solution that makes it easy for clients to book.
Here are a few ideas of things to check with the goal of making it easy to book a session with you. Look at your:
Website. Do you have the best way to schedule a session listed on every page of your website? Ideally both at the top and bottom of the page. Keep in mind, a sidebar might feel like the top of a page on the computer screen, but it's likely near the bottom on a mobile device. Be sure to check both views of your website.
Contact page. Do you have an email address or contact form on your website? If you want people to book a session by email, think about what streamlines that process. Having a contact form with a specific field for them to list times they'd like to book and fields for other important information you need makes it easier to connect and book faster. Don't ask for too much info either as that can be a deterrent as well.
Phone calls. Do you have any specific instructions on your voicemail? How can your voicemail greeting make it easier to book with you? Or have you considered hiring an answering service to book calls for you? That's not always going to be best, but if the person is well trained it could increase your bookings and pay for itself.
Social media. Do you list the preferred contact info in all posts designed to encourage bookings? Look at your main page? What is the main call to action? How easy is it to book with you? Could you make it even easier?
Word of mouth. If a client tells a friend about you… are you easy to find? Try searching for your business on Google, Facebook, etc. Better yet, ask a friend to let you watch them try to search for you. Are they searching for your name or your business name? Are there duplicate or confusing listings? Do you come up first or is there room for improvement?
More word of mouth. Do you have a business card clients can stick in their wallet and hand out with their referral? That would eliminate the mess of the friend remembering the right details to look up later.
Opportunities to share. Are you putting out content and reminders that trigger your clients to think of you and mention you to their friends? Are you posting things that they want to share on social media?
Booking process. Think it through carefully. I've found many reflexologists, massage therapists, and similar service providers I've worked with prefer to have clients call them to schedule a session. But personally, I myself prefer to book online and it does affect who I hire for haircuts, etc. I actually had several of my own clients email me this week about scheduling a call. They all asked me for the link to my booking site. They prefer to schedule a time using it vs us emailing back and forth to find a time that works. (And I'm quite glad they like using it as it's easier and more efficient for me too.)