It's officially Fall and on our recent Target run my 11-year-old and I succumbed to the marketing ploy of seasonal scarcity and bought not one, but THREE special "pumpkin spice" treats for the kid.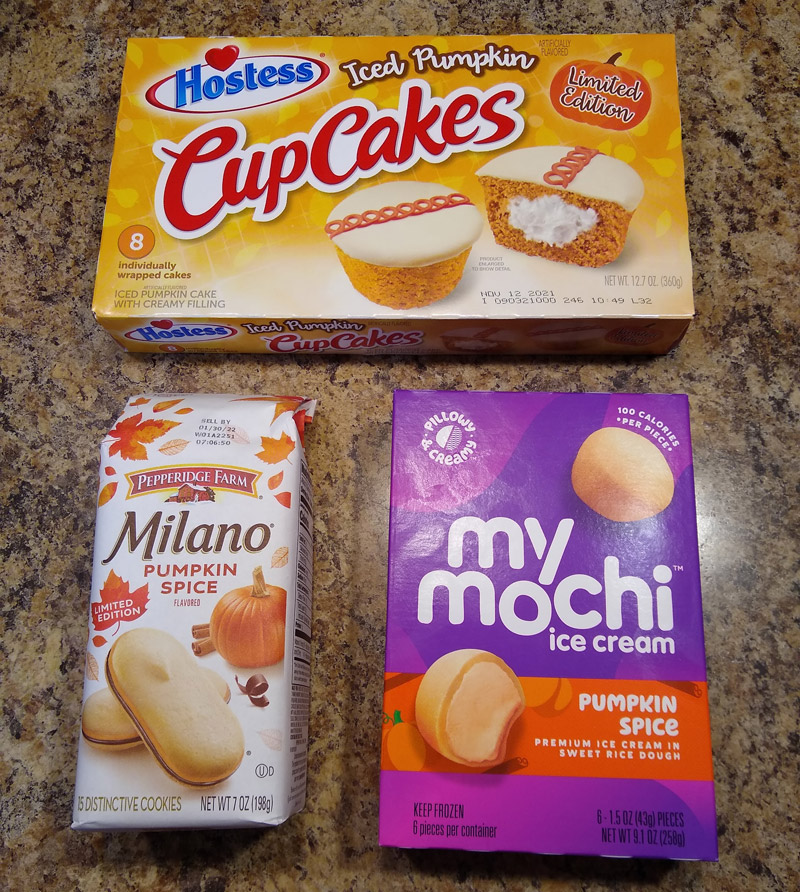 This splurge is the perfect tie-in to the marketing tip I was already planning on using the seasonal Fall changes to help you get new clients (and give the occasional clients a nudge to book now) using the "pumpkin spice" marketing pull.
Fall Marketing Ideas for Reflexologists
"Pumpkin Spice Package"
For a limited time, maybe for the next 4 to 6 weeks, you can offer a special "Pumpkin Spice Package" (it should cost a little more than your normal sessions).
This package *could* include (select the ideas that fit with your setup and style):
Diffuse pumpkin spice blends of essential oils (or a pumpkin spice scented candle)
Provide a pumpkin spice tea in the waiting area, during the foot soak, or as a to-go option instead of a water bottle
Use a pumpkin spice foot cream instead of your normal cream
Apply a pumpkin spice moisture mask to the hands/feet not being worked on
Apply a pumpkin spice foot/hand scrub
Provide a take-home sample of the pumpkin spice foot creams, scrubs, etc.
Pumpkin decorations
Fall music
Pumpkin spiced treats like pudding, pie, bread, muffins, cookies, etc.
You can also promote the skin and nutritional benefits of pumpkin
All of these items really do exist as products you can purchase and many of them are things you can make yourself too.
Why it works
It may seem like a stretch to make a pumpkin spice reflexology package but trust me. This can work for several reasons.
Time-sensitive – people respond to urgency, in fact sometimes we need it to take action.
It's fun and different – people like to try new things and experiences out of curiosity, boredom, etc.
It appeals to our senses – scent can be a strong motivator and the pumpkin spice scent is usually connected to cozy, fond memories.
Social proof – it must be the cool thing to do because everyone else is getting excited about pumpkin spice this, that, and the other, right? We as a species are biologically wired to want to fit in and follow the lead of others in the group (this was for safety and survival back in our primal times).
Looking at all these reasons, it's no wonder so many people are motivated to whip out their credit card as soon as they hear the words pumpkin spice…
But the ultimate takeaway is that it's a limited-time option and we don't want to miss out. If you offer it year-round it won't be near as effective as only offering these Fall-inspired packages for 4 to 6 weeks at most.
[lepopup slug='5-free-graphics-inline']
Fall marketing ideas that go beyond the pumpkin spice tie-in
If the pumpkin spice theme isn't your thing (or more importantly your clients' thing) then you can play to your strengths and your clients' interests in offering a different seasonal package special.
Related Autumn themes include:
The balance between light and dark (since the equinox brings an equal amount of daylight and nighttime in the sky)
Harvest and bounty
Releasing and letting go (as the leaves fall to the ground)
Changing colors
Cooling temperatures weather-wise (and possibly people wanting sweaters, blankets, hot drinks depending on your local weather)
More humid weather switches to dryer air especially in places turning on the furnaces that can leave skin feeling dry (location depending)
Migration of birds, butterflies, etc. to warmer areas
Gathering, preparing, and storing for winter
A slowing pace gearing up for winter
The beginning of cold and flu season
Traditional Chinese Medicine focuses on the element metal, shifting from yang to yin, the lung and large intestine, and emotions of grief
Other flavors and scents such as apple cider, maple, salted caramel, cranberries, butterscotch, chai, squash, sweet potato, sage, ginger, or anything else in-season where you live
Here are a couple of Fall reflexology packages you could come up with based on these ideas:
Note: These seasonal package ideas can incorporate other modalities you offer and will vary based on your individual training. These are ideas to help you figure out what makes sense for you to offer.
Fall Grief (or release) Package:
Focuses on the lung and heart reflexes (or other points you think will help)
Sets the intention of letting go before the session to release
Use any training you have regarding emotional releases
Heart chakra work
Includes a mantra or meditation focus to help let go of grief during the session
Clears the energy paths blocked by grief
Grief is connected to Fall in Traditional Chinese Medicine if you want to look into the connection further
Fall balance package:
This can be similar to the grief package except but adapting the ideas to focus on helping them feel balanced or finding balance in this season of transition and preparing for fall
"When you can't migrate South" / Snow Bird package:
Taking a cue from the birds migrating south you can offer this package as a toasty warm escape
This could go a few directions… one is using a heating pad/table warmer, blankets, hot tea, etc. to provide extra warmth and coziness, or you can offer a more tropical theme
Hot towels or stones make a great cooler weather option too
Dry skin/hydration package:
Use a more hydrating cream or lotion either during or at the end of the session to help the skin adapt to the change in moisture levels
Have fun with special "holidays"
Another approach is rather than making a special package, look at some of the "fun days" to help you incorporate just a little extra flair.
For example, everyone who books during the week of National Candy Corn Day (October 30) can guess how many candy corns are in the jar for a prize.
Or maybe those who book on Candy Corn Day (October 30) get a free "Candy Corn" Sugar scrub (or the recipe to make their own). Or maybe you can just share the recipe on social or via email that day. Here's one to get your creative juices flowing.
Another approach to Candy Corn Day (October 30) is to translate it into an excuse to talk about foot health like corns on the feet.
You could also just do something festive like wear candy corn socks or have to-go bags of candy corn for the clients that day/week.
These ideas to play off the "fun days" using candy corn as an example are a simple way to offer something different for you to talk about and promote that feels time-sensitive and fun to get people in. It also could be something clients might share or post about on social media or in conversations with others to help spread the word about your business. It might be surprising how much your clients can get into you doing little fun things like this here and there.
Other Fall "Fun" Days Include:
Note: I would pick only one or maybe 2 of these that fit your style and audience. If you do too many it will lose the "special" factor. There are also tons more of these fun days. This list just includes those with a connection to the Autumn season.
September 21-23 (varies): Equinox
September 27: Scarf day
September 30: Hot Mulled Cider Day
October 5: Apple Betty Day (an Apple Betty is like an apple crisp)
October 6 (1st Wednesday): Pumpkin seed day
October 21: Pumpkin Cheesecake Day
October 26: Pumpkin Day
October 30: Candy Corn Day
October 31: Caramel Apple Day
October 31: Halloween
November 1: Cinnamon Day
December 1: Pie Day
December 1: Eat a Red Apple Day
December 17: Maple Syrup Day
Now it's time to put these Pumpkin Spiced-Up Fall ideas to work
Can you think of a way to make some limited-time modifications to your regular services to "pumpkin spice" them up with a fall theme? Let us know what you're thinking in the comments. Or join the conversation in the Reflexology Marketing Facebook group.
Business is Closing
Thanks for your support. Website content is available until March 15, 2022. Please disregard any mentions of the More Feet Club, the email list, or other paid services.