Social what?!?
What is social proof?
Social proof I think is explained nicely by Robert Cialdini, in his book, Influence: The Psychology of Persuasion where he writes, "we view a behavior as more correct in a given situation to the degree that we see others performing it".
Social proof, also known as social influence, is where people are more likely to do something based on seeing others do it. Some may say it's because people have a desire to fit in, be liked, and be accepted by other people. But at the core it goes back to our ingrained survival skills. Fitting in meant survival and our brains are still hard wired psychologically to subconsciously mimic our community.
Needless to say people are more likely to take social proof cues as validation and encouragement to do something because other people, or certain people do it. This is why celebrity endorsements are so popular in advertising.
Social proof doesn't just come from celebrities though. It can also come from:
Customers (think testimonials)
Quantity of people (seeing a line of people waiting for a reflexology session at an event automatically makes it more desirable but even just seeing one person getting it helps more than an empty chair)
Trusted connections (referrals from friends and family)
Experts (referrals or testimonials from other health care professionals or experts in a field such as athletes)
Authority and certifications (the industry stamp of approval that you meet the qualifications)
Without further ado, here are 17 ways you can incorporate some social proof into your marketing to get more reflexology clients:
Celebrity Social Proof
1. Show off your well-connected clients
Do you have any high-profile or well-connected clients?
Asking to take a photo of them on your reflexology table/chair or getting a testimonial from them can carry more weight than the average client because people know who it is.
2. Share celebrity examples in the news
Sharing articles and images featuring famous people from anywhere in the world getting a reflexology session can also lend added credibility and desirability.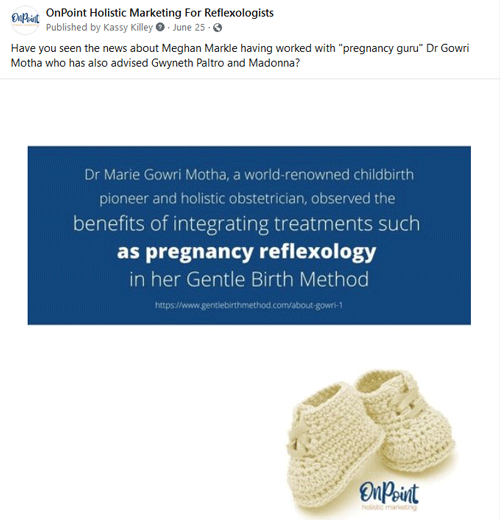 Connections and Customer Social Proof
3. Ask clients for reviews and testimonials
Don't hesitate to make asking for reviews a standard part of your workflow! Reviews and testimonials are always great for a business. Encourage clients to leave them on platforms like Facebook, Google, Yelp, etc. and then share the reviews from one platform to another and on your website to get more exposure from each testimonial.
What else should you put on your website? You'll find the answer in this post: What's the most important part of your Reflexology Business' Website?

4. Share client feedback statistics
Share client feedback statistics, such as "94% of regular clients said they've referred us to a friend, are you one of them?" You can capture additional feedback statistics by sending out a questionnaire to past clients.
5. Feature client case studies
Featuring client case studies helps them see how clients have benefited from reflexology and can start picturing those results for themselves too. Of course, you will need to ask clients for permission before sharing their story.
6. Ask friends and clients to support your business on social media
Getting friends and loyal clients to comment, share, or engage with your social media posts helps others do so as well. The algorithm on most social platforms actually encourages this behavior and will automatically show your posts to more people if others are already interacting with the posts.
7. Collect and share a list of reasons to get a reflexology session
Crowd-source a list of the amazing reasons to get a reflexology session from your clients by posing it as a question on social media. Then your other followers will see what others have to say about it. Then assuming you get good responses, promote this post on your website, email list, etc. directing more people to it.
Another idea that might be trickier to pull off but could have a good impact is to ask other community leaders in the health field who can be seen as experts of their field, whether or not they are your client about the benefits of reflexology. Having this list lends credibility to your field, especially seeing all of these reasons stated by people other than yourself.
8. Ask people to share your information
It's weird but sometimes just asking people to tell a friend, share an email, or share your Facebook posts can make a difference and they will actually do so. Facebook doesn't like it when you ask for the share (or like) in your post because they know it works and spammers use it to game the system. But asking them in other ways or just occasionally mentioning it can mean people are more likely to share.

Quantity Social Proof
9. Mention how many people you have on your email list
Mentioning the number of people on your email list can help others want to sign up. You can do this by saying, "Join 300+ other community members. Get health and reflexology tips when you subscribe to our email list." Be sure to personalize this with your town or neighborhood, or another way to describe your ideal client. If you have an opt-in offer or freebie, you may instead say, "Join 300+ other community members. Download your printable reflexology chart today!"
Make business statistics available to potential clients
By sharing statistics on repeat clients, such as "70% of first time reflexology clients book another session" or "Did you know 70% of my reflexology clients have a standing weekly, biweekly, or monthly appointment? See the benefits of regular sessions for yourself!"
Statements like these show that most people are regulars as well as planting the seed that once they try it they will want to come back again and again.
Don't start off your event with a blank sheet
If you're at an event or somewhere with a signup sheet (for your email list or a mini session, etc.), putting a few names down on the email signup sheet (even if it's just your mom's) from the beginning will encourage others to add their name.
Share data from reliable studies
Reputable data showing the benefits of reflexology will help those who are on the fence about scheduling a session. Also, if you share this data on social media, it could be what helps a new potential customer consider reflexology for themselves.
Social sharing counters on your website pages or blog posts
Once your website is getting shared, a share counter indicates to readers that others find this information worth sharing. This encourages new readers to share more than just seeing the share buttons without the number of shares. However, only use stat counters if you are actually getting shares on your pages or blog posts, otherwise it can backfire.
This is easy to do with WordPress plugins, but I'm not actually seeing a way to do this with Wix.

Authority Social Proof
Share how experienced you are
If you're more experienced, stating how many feet you've helped with reflexology helps show that you are the reflexologist to go to. You can do this by saying, "These hands have given more than 700 reflexology sessions in the last year" or "Over 200 feet have had a reflexology session on [your name/business]'s table/chair. Find out why." You can add these numbers to your social media bios, website about me, or even your newsletter!
Showcase awards you've received
If you've received any awards, proudly post them. If you haven't, now is a great time to apply, or ask friends for a nomination. This can help a client choose you over your competition. It shows them that others value and recognize your work.
Share your media coverage
Media coverage is great for business! If you've been featured in a newspaper, magazine, TV segment, or radio show, link to it on your website, social media, etc. and anywhere else you can share or feature it. If you haven't been featured, you can submit press releases whenever your business does something noteworthy, such as participating in a fundraiser, or opening a new office. You can also pitch stories about timely connections to reflexology such as how it helps the immune system during cold and flu season.
Position yourself as the expert
Tout your certifications and memberships; this can lend credibility from an "authority source", which will help your potential clients feel more confident in their decision to hire you.
Which of these can you implement today to attract more reflexology clients?
These are just some of the ways you can influence potential reflexology clients using social proof. You don't have to use all of the ideas on the list, but implementing at least a few is bound to help get more clients through your door.
Business is Closing
Thanks for your support. Website content is available until March 15, 2022. Please disregard any mentions of the More Feet Club, the email list, or other paid services.