Here's a fun diagram to help you decide. I've also listed a few reasons to back up the diagram below.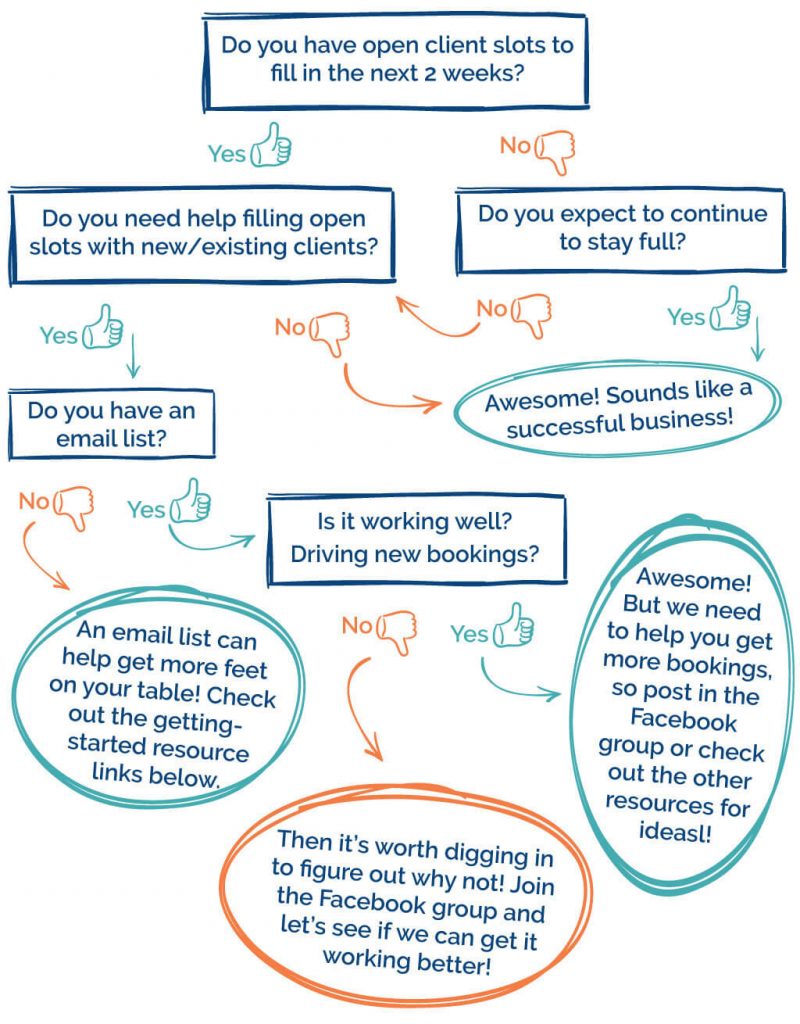 Join the Reflexology Marketing Facebook Group and let's help you get things working better! Click here to join >>
If You've Heard "Email is Dead" You May Wonder, "Does Email Marketing Still Work?"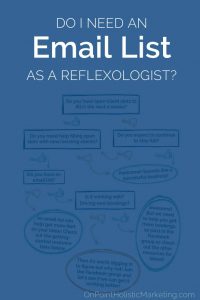 So here's the thing… whenever a new technology comes out people seem to think the older options don't work. (Cue the song, Video Killed the Radio Star…) But while things like email may not stay as effective as they were in the beginning (before businesses abused the medium or a shiny new technology emerges) they often still have a lot of value for the right audience. Email is still huge for businesses wanting to communicate and sell to their prospects and customers alike.
Here are a few tidbits to keep in mind:
Lots of people still use email. More than 85% of US adults send or read email (Source.)
In the UK, the DMA study says 99% of consumers check their email every day—which honestly seems a bit high, but the point is most people are checking email. (Source.)
People choose to opt-in to mailing lists, so they want to hear from you if they sign up.
Smartphones make email accessible with 83.8% of respondents saying they use their phone to check personal email. (Source.)
When asked, "If you could select a communication preference from a business, which would you choose?" email was the overwhelming number one answer. And for all age groups! With 78% of people ages 56-67 choosing it and the other age groups not far behind. (Source.)
All that said, while email is still a valuable tool, you have to respect your mailing list's interests, needs, and concerns. Sending them information they actually want and find valuable is the key to successful email marketing. (And if you need help in this area, the More Feet Club has what you need!)
Email vs Facebook (or any other social media platform)
You have more control with email.
While you use an email service provider like Mailchimp, Mailerlite, or Convertkit to send emails… they don't own your list and they don't decide who gets to see your emails. Email clients like Gmail do filter emails into the spam, promotions, primary (the goal!) inboxes, etc… but the content you put in your emails, and your sender reputation are what they look at and these things are easy to control and do right.
Social media like Facebook on the other hand don't give you much control outside of paying for advertising to reach the people who have followed your page. Years ago it was easy to reach your fans on Facebook, but now most posts only reach a small percentage of them unless you "boost" the post (aka pay for advertising). And if Facebook closes, you have no way to contact all your fans to tell them where to find you elsewhere online. I'm not saying Facebook is "dead" either… it still has lots of value to offer in your marketing efforts. But as the old adage goes, "don't put all your eggs in one basket" and especially one that you don't have control over.
Now as for how to build an email list and what to send to your subscribers…
Here's the full list of email marketing resources >>
[lepopup slug='5-free-graphics-inline']