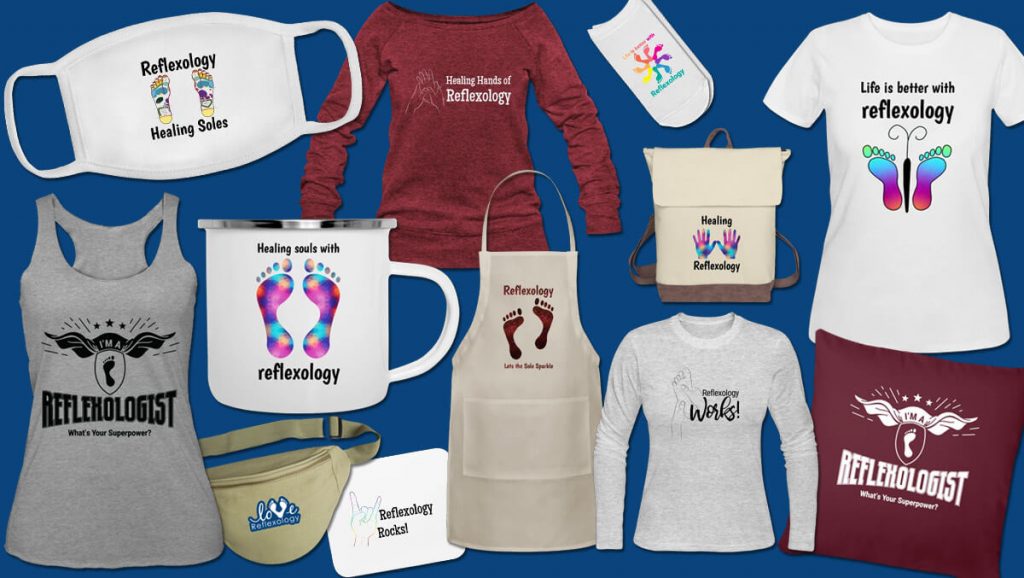 While I started the wearable reflexology marketing shop with TeePublic I've had a few requests that have led me to check out other options for more diversity in the product offerings as well as what's best for reflexologists in different countries. So far I've settled on using 3 platforms, though I'm open to requests if you have a favorite shop. I'm planning to do some test purchases on quality, but so far have only purchased shirts and the pleated mask from TeePublic.
Pricing
If you are most concerned with the cheapest prices, I've made two charts below comparing the price plus shipping for both masks and a basic t-shirt. In general, for US shoppers, I found Spreadshirt (UK store coming soon) to have the widest selection and cheapest prices, however it's not always the case on every item and when TeePublic has their 30% off site wide sales, then TeePublic is often cheaper.
Location
For non-US residents, RedBubble seems to be more popular as they print (and thus ship) most items in more countries (Canada, UK, etc.) which reduces shipping times and costs. You can see their chart to get a feel for what might make sense to order from them based on your location.
TeePublic ships from mostly the US, but apparel also ships from the UK (shipping details)
Spreadshirt has production sites in Europe and the US. The store for US, Canada, and Australia residents is open. One serving the UK and Europe is coming soon as it's a separate set up process.
Customization
If you want to be able to customize the location or size of the graphic being printed, only Spreadshirt lets you control this with their customizer option. You can even add additional text and graphics such as your logo to the design. (Click on "customize" at the top of any page, then from there you'll select the product and design you want, add text, upload your logo, etc. Then click on "Get Price". Don't forget to delete the default design if you're picking something else.)
What type of item are you looking for?
Masks/face coverings
I've researched this heavily trying to find the best option out there in the print-on-demand space to offer reflexology marketing messages since many public places are requiring face masks these days across the world.
Pleated Mask
For the best fit, I think it's the TeePublic pleated double layer mask. The only downside is that because it's pleated, the design isn't always as clearly visible.
This is what I'd choose for working with clients, however, since it offers the option to add a filter and has better protection/coverage from the way it fits. Only TeePublic offers a pleated mask of the sites I'm using currently.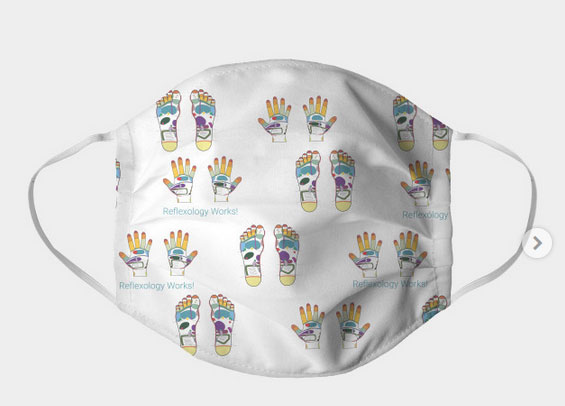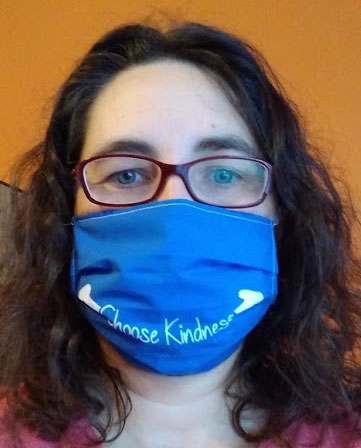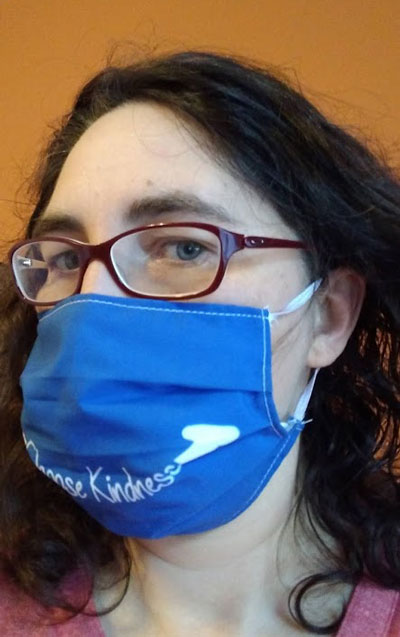 Basic "Flat" Mask
If you're wearing the mask as a marketing option when you're running errands or in public spaces, the flat mask style offers a cleaner look. That said, I have some concerns about the fit. I've been researching this a lot and there are mixed reviews on the fit. These styles don't seem to cover under the chin. They also don't wrap nicely around the nose or the side of the cheeks. This seems to depend on the person though, some are happy with the fit, others say it's not ideal. All three sites offer something similar as shown below.
One advantage of the RedBubble masks is that I can do a pattern (some items on RedBubble have the single image and others use it in a pattern for masks and other items too, but only on RedBubble.)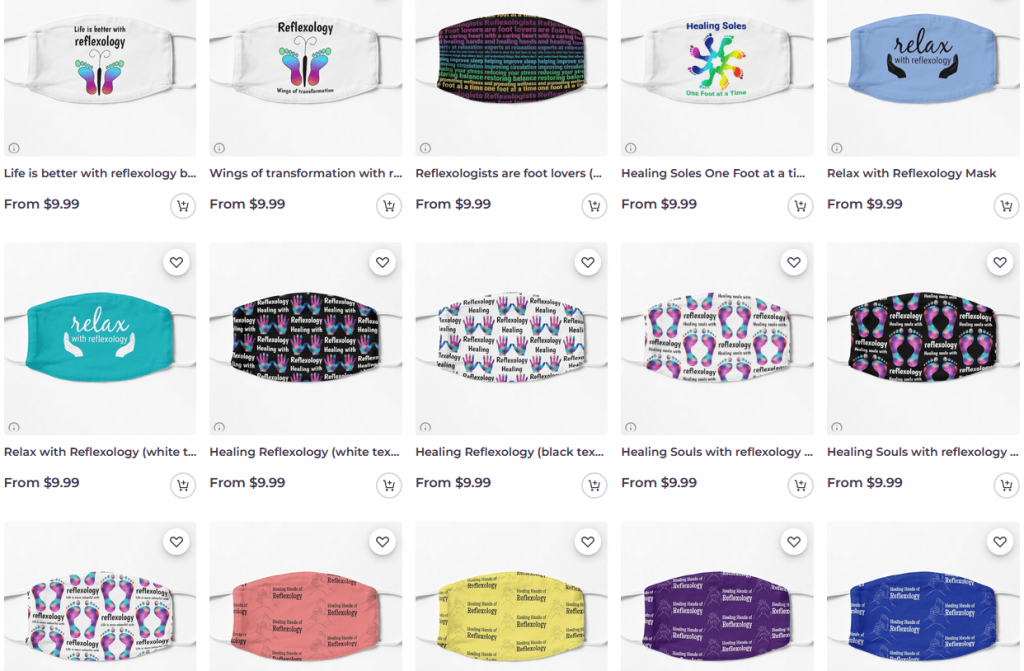 This Facebook post shows an artist wearing the TeePublic basic face mask to get a feel for what that style looks like.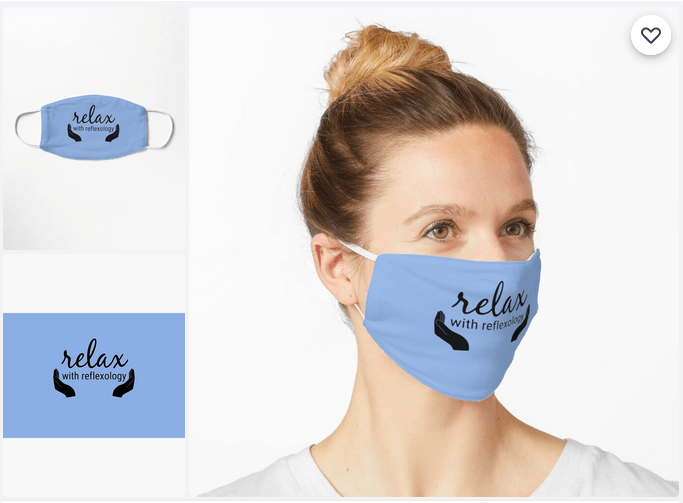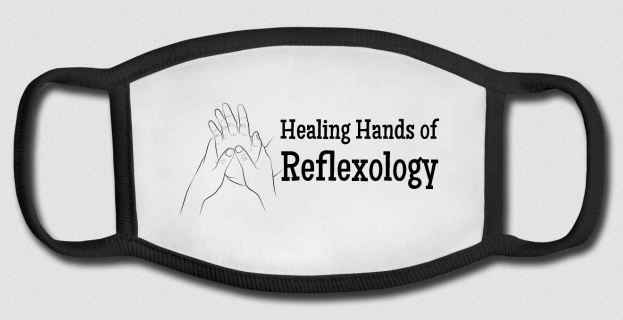 Clothing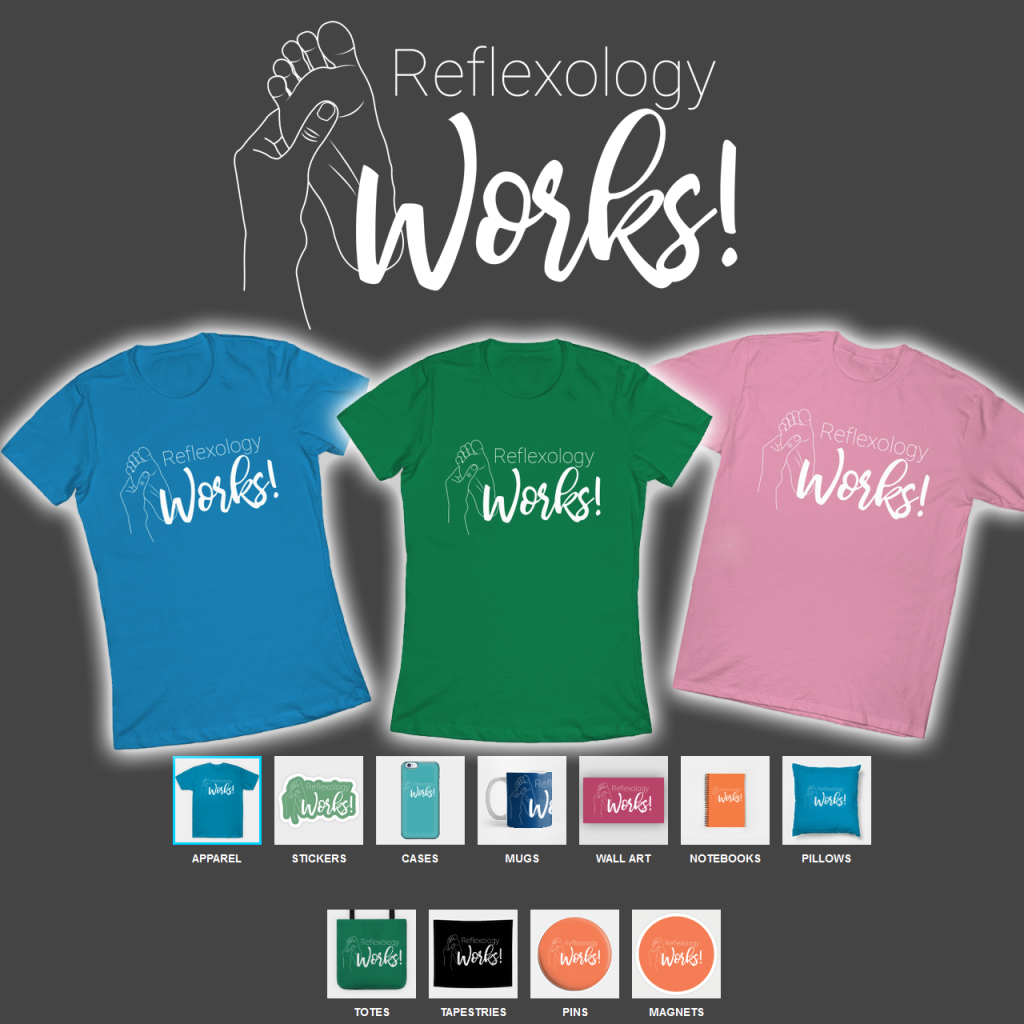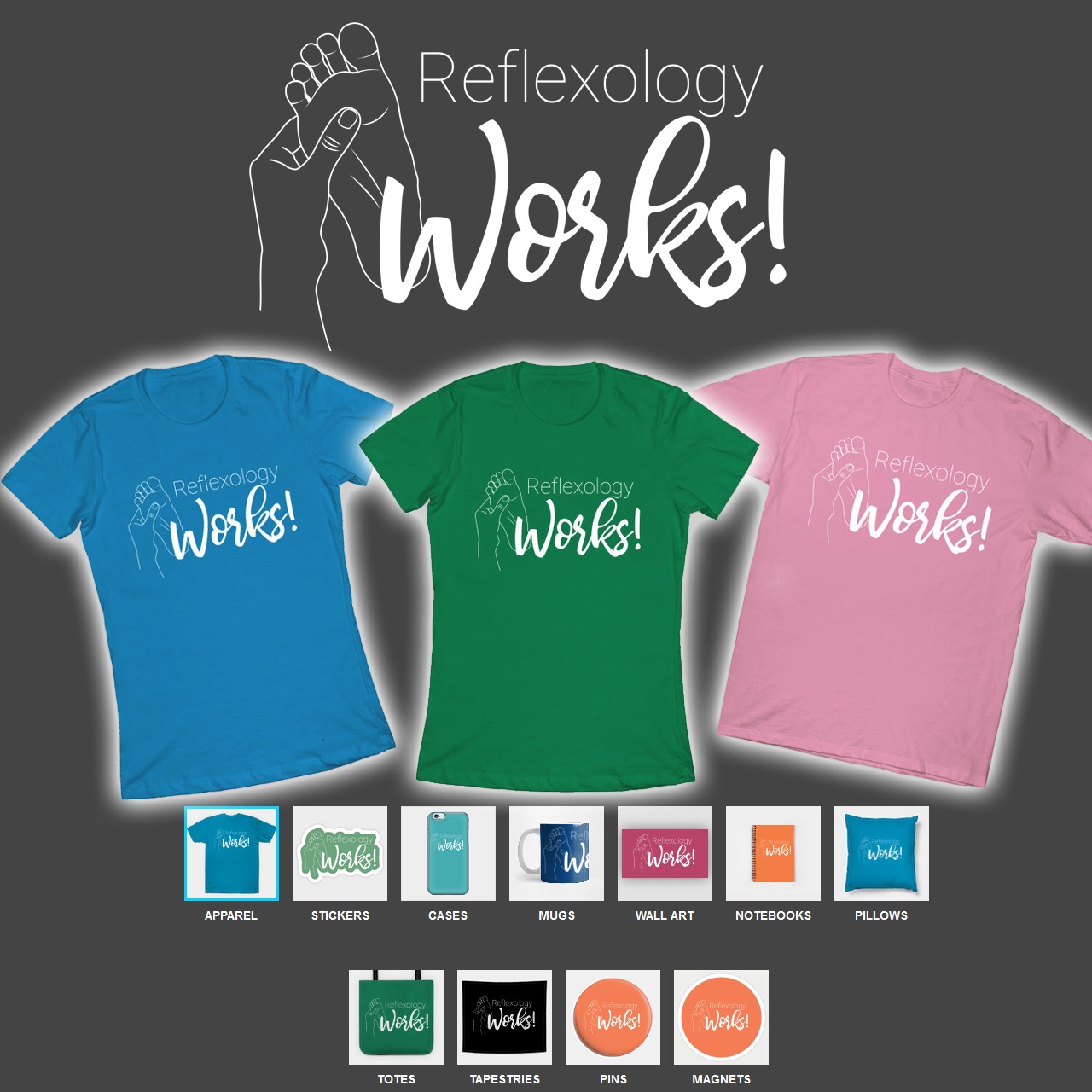 All 3 sites have a wide selection of cuts, styles, and material for shirts including hoodies, tank tops, long sleeves, baseball style, etc. as well as multiple color choices for most styles. The color choices do vary between each site. Spreadshirt might have the most variety or at least the most unique styles, but they all have slightly different offerings.
Spreadshirt has organic cotton shirts that are pretty reasonable prices for organic too.
RedBubble warning about color choices… you can choose the color of the clothing on most items but it's not exactly clear or obvious. Look for the color choices in the corner of the photo on the product page.
Regarding design placement options:
RedBubble offers the choice of front or back placement on most clothing items.
TeePublic will print designs on the back but it is only an option if I upload the design to go on the back (requests welcome) so you'll notice some designs say "back design" to indicate it prints on the back.
Spreadshirt offers full customization. You can edit the size and placement of the design. You can add your own graphics or use the ones in the store on the front or back or even place the design on both places. You can even add text or your logo to either sleeve too.
Aprons
If you wear aprons when working with clients, I love the look of both Spreadshirt aprons better, especially since the price is comparable.
Buttons
All 3 sites offer 2 sizes. Based on the feedback of another member, I would advise against the small buttons. They aren't big enough for most of the designs to be easy to read. The only other difference is I have to set a background color and might pick different colors on each site.
RedBubble's large button is USD$3.55 and is 2.25″/57mm
Spreadshirt offers a 5-pack for $6.99 and is 2.2" (it would be nice to get a mix of styles, but that's 5 of the same design)
TeePublic's pin is $3 and is 2.25"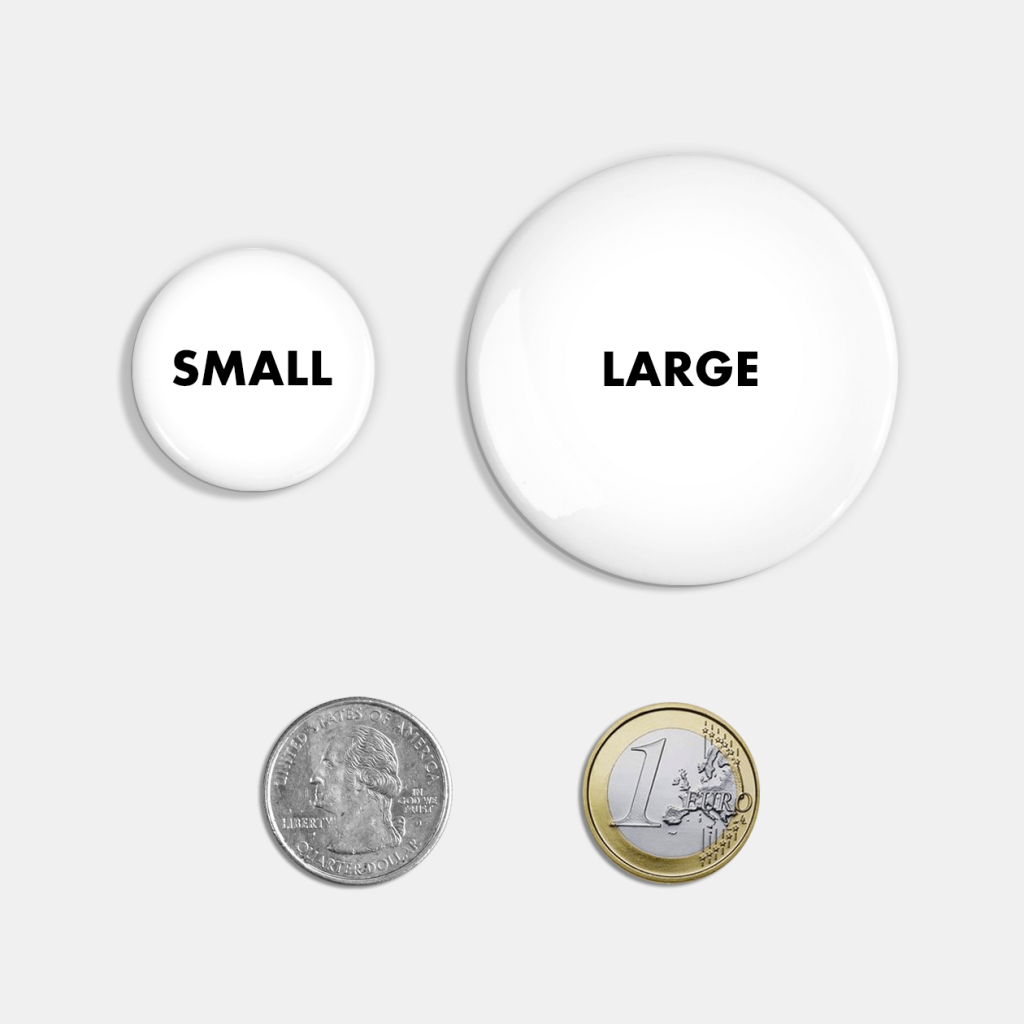 Bags
I think the backpack looks really nice from Spreadshirt and they have more creative bag styles.
Mugs and drinkware
You'll find options on all the sites, but there is more diversity in the selection on Spreadshirt. This is just a small sampling of the selection available with most items having several color choices too: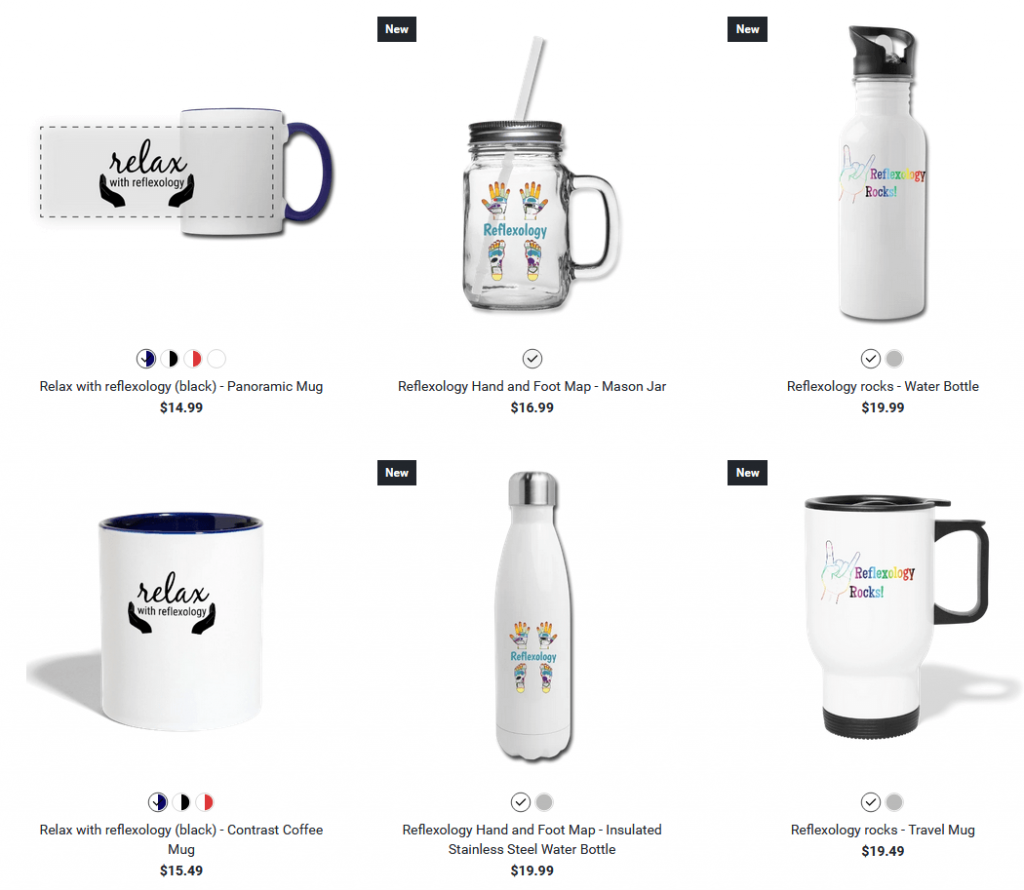 Other items
A few highlights that are only offered on of of the 3 sites include:
Mousepads and bandanas are only on Spreadshirt.
RedBubble has more home and living items including coasters, wall hangings, shower curtains, bedspreads, bath mats, clocks, etc.
Face mask (basic style) pricing comparison
Most sites only offer the basic mask style… though TeePublic has a pleated style that offers better fit, but is not as readable for the designs.
US
Canada
UK
TeePublic

(Watch for 30% off sales)

Basic face mask is USD$10 (pleated double layer is $15) plus shipping $5.99 (total $15.99)
Basic mask is CA$13.40 plus shipping CA$8.03 (total CA$21.43) and is shipping from the US
Basic mask is £7.64 plus shipping £4.58 (total £12.22) and is shipping from the US
RedBubble

Mask is $12.49 plus shipping $3.75 (total $16.24)
Mask price of CA$1738 plus shipping CA$11.65 (total CA$29.03) and is shipping from the US
Mask price of £11.49 plus shipping £2.30 ( total £13.79) RedBubble has printers for most items in the UK though masks are printed in Germany
Spreadshirt

(watch for 15% sales)

Mask is $12.99 plus shipping $4.99 (total $17.98)
Mask price of CAD$17.78 plus shipping CAD$8.99 (total CAD$26.77)
Store coming soon
Classic t-shirt pricing comparison
All sites have various other shirt styles and materials with each site having a slightly different selection beyond the standard t-shirt
US
Canada
UK
TeePublic

(Watch for 30% off sales)

Shirt is USD$20 plus shipping $6.99 (total $26.99)

Shirt is CA$26.80 plus shipping CA$14.73 (total CA$41.53) and is shipping from the US
Shirt is £18.34 plus shipping £6.40 (total £24.74) and is shipping from the EU
RedBubble

Shirt is $19.90 plus shipping $7.24 (total $27.14)
Shirt price of CA$23.54 plus shipping CA$6.10 (total CA$29.64) should ship from Canada
Shirt price of £14.96 plus shipping £4.79 ( total £19.90) should ship from UK
Spreadshirt

(watch for 15% sales)

Shirt is $17.99 plus shipping $4.99 (total $22.98)
Shirt is CAD$24.61 plus shipping CAD$8.99 (total CAD$33.60)
Store coming soon
Looking for a specific design and item combo?
If you want a design on an item offered by one of the sites but not with the reflexology design you want, you can message your request. I have to manually adjust the placement and sizing, etc. for each design on every product, so sometimes I just don't turn on the design for some products I don't think will get selected. But I'm happy to do it upon request. (This includes phone cases and covers, baby items, and a lot of apparel choices on RedBubble like leggings, mini skirts, dresses, etc.)
Similarly, many of the items on TeePublic and RedBubble require me to pick one background color. So if you don't see the design with the background color you want on something like a mask, pillow, pin, or pretty much anything other than the shirts that do offer set color choices, I'm open to requests.
Share a photo or your review of any wearable reflexology marketing items!
You can comment with your reviews of what you liked, buying tips, etc. And you can share photos in the Reflexology Marketing Group on Facebook!