How Do Directory Listings Help My Reflexology Business?
Getting more links to your website is called backlinking when it's part of "search engine optimization" (SEO) and something marketers can spend a lot of time on. The goal of using SEO is to get your website to show up as the top result for Google and other search engines. And these backlinks can improve your website's ability to do so. (If you're curious about why or how, let me know in the Reflexology Marketing Facebook Group or via email and I'll be happy to explain more about how the search engine algorithms work.)
While SEO is important, these other websites with the directory listings also get their own traffic and can send people to your website even if the potential client isn't searching on Google for a reflexologist.
The more ways you can get your name out there, the better. Links to your website is one of the ways to make that happen. Since there are several ways to get more links to your website we're going to break this tip up and just focus on directory listings today. You can read about getting other links to your website in this post >>
[lepopup slug='5-free-graphics-inline']
How To Get More Website Traffic with Directory Listings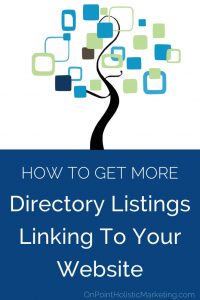 Before getting started, it's best to write out a short description of your business and keep a list of all the things you enter into a site's directory listing form so you can easily copy and paste to save time.
Then start making a list of places you can get a directory listing.
In general I prefer free listings unless you know that the paid listing is going to be driving enough new clients to your practice to pay for the cost of it. Ask questions about how much traffic similar listings are getting and find out what kind of data they will provide to show they are helping you reach new clients.
Listings that are part of a membership (like reflexology associations) that offer more benefits than just a link to your website can also be a good option if the rest of the benefits make it worth the cost or again they are able to drive enough new traffic to your website that you get new clients. (Note this information was last updated in December 2018. OnPoint Holistic Marketing makes no guarantees of the directories and associations listed below. Their rules and restrictions can change at any time. Please do your own research before committing to use them. You can also discuss them in the Reflexology Marketing Facebook Group.)
What reflexology associations do you already belong to? Do they allow member listings with a link to your website? While I strongly recommend having your own website, at the very least link to a Facebook page or whatever social media you use most. Here are a few goodies.

The American Reflexology Certification Board– listings use followed links which is good for you
Reflexology Association of America – also uses followed links
US state level or country specific associations
Association of Reflexologists

Other industry-related directory websites can have better outreach marketing and google search results. Some offer a free level of membership which may or may not include your a link to your website, but at least it's one more place to have your name/business and some contact info.

Examples:

The Holistic Health Directory – free 1 year listing with a link
Holistic Therapies Directory – free listing with a link

There are lots of regional or local options as well that focus on holistic health. Anything you've heard of, or websites that come up on the first page of Google are a good choice if they offer a free listing.

General directories based on reviews such as the following

Yelp
Google Maps
Bing and Yahoo too
Foursquare
Angie's List
Better Business Bureau
Social media sites like Facebook
TripAdvisor

Other general directories

Local chamber of commerce organizations or business groups (not usually free, but the member benefits might make it worth the investment)
Many cities and towns or even neighborhoods have local directories that may or may not have a free listing
Convention and visitors bureaus often have directories if you can convince them people travel to see you or your service helps improve travelers experiences

Paid Directories aren't always going to be worth the cost. However if they are showing up before your practice in the Google results, they may send new traffic to you and are worth checking out. Examples include:

Spafinder, while it has a few strings attached, it does tend to show up well in the search results and might get you in front of a new audience.
Thumbtack only requires you to pay for leads it sends you. So it's not really a listing site because it instead provides you leads that you can reach out to.

Want even more? Start googling things like "reflexologist in [city]" to find industry related ones or other searches related to the services you offer, the location you live in, etc. There are lots of directory sites out there. If they don't tell you how much their listings cost up front, you should assume it's not going to be free (like wellness.com where they want you to fill out all the details and then tell you there's a minimum of a $20 one-time fee with other options that include a monthly fee.)
I realize this is a long list and can take some time. If you don't have a couple hours to dedicate to doing it all at once, try to commit to finding and completing one new listing a day for a few weeks.
Let me know how it goes! And once you get them set up, I'd love to hear about which ones are driving traffic to your website. (Google Analytics referral data should let you know <– if that sounds like I'm speaking Greek, just email me and I'll explain what I'm talking about.)
Happy Listings!