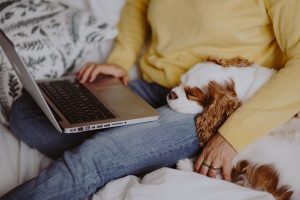 Getting other websites such as blogs, news sites, other businesses' websites, etc. to link to your website can be just as important, if not more important than getting links from directory sites. Directory sites can be easier because you just fill out a form, but as with many things, a little more work can pay off exponentially. So it's important to work on getting other websites that are related somehow, whether it's local to your town or connected in the holistic health field or somehow makes sense for your target audience.
Links to your website will help help other people find your website in a few ways. For starters, they can be on that other website and then click on your link. Voila! Google and the other search engines also can find you via these links and they keep track of how many websites are linking to you and also pay attention to the quality of those links. If the website linking to you is of high quality, they give you a little extra credit for that link. The search engines also pay attention to the text that's used to link to you and they pay attention to what that website is about. Don't worry too much about these things if that feels overwhelming. Just think about how to help real people but know that when you help real people and make it easy and clear for them to find you, Google likes that and it can help you exponentially.
[lepopup slug='5-free-graphics-inline']
So How Do You Get These Websites to Link to You?
The easiest way to get more links is to have great content on your website. As people will be compelled to share it all on their own because it's so great. Just keep in mind that "great" doesn't mean what YOU think is great. What matters is that other people deem as helpful and beneficial!
Think about what would make you want to link to another website. For example, if you write a blog post such as a "how-to", "tutorial post", "cheat sheet", "checklist", or really anything with great helpful information people are likely to share it on social media or even link to it on their own websites if it impresses them.
However, I'm guessing most of you aren't writing a lot of blog posts and that's okay. We just need to look at other ways to get traffic from other websites coming into yours.
Local Bloggers
Depending on the size of the town/city you're in, there are likely people in your town writing blog posts on a variety of locally focused topics. Try to find some of them writing about things other than politics (that's the most common topic in my town!) and reach out to them with a suggestion for an upcoming blog post that can mention reflexology and your practice. Ideas include:
Encourage them to come for a discounted or even free session/taster in exchange for writing an honest review of their experience. (There's always a risk it won't be a good review, but if you're good at what you do and you've picked a good choice in a blogger that's open to a holistic approach, the review should be beneficial to you.)
Pitch them a story idea about helping people with reflexology. You can talk about how you've helped a specific client (with or without their name being involved) if you get the client's permission. Or talk more generally about the conditions your clients tend to have and how reflexology helps them.
Ask if you can write a guest post talking about what reflexology is and how it helps people.
Holistic Health Related Websites/Blogs
While people with a local audience are going to be more likely to drive local clients to you, there's also benefit in finding people talking about holistic things already. While most of their readers won't be in your area, the exposure and links to your website can still be beneficial and it gives you a new level of credibility by being featured on a national level. It's a little trickier to reach out to these people/companies, so you'll have to do some relationship building before making the pitch on how to work together.
Local News Media
Your local newspaper, TV station, news/talk radio, and local magazines don't always link to a business' website when they do stories on local businesses, but the coverage will help either way. It can be easier to pitch community newspapers and local magazines since they don't get as many pitches as the major paper or TV stations, but it's still worth reaching out with a suggestion either talking about reflexology in general, about something special (aka newsworthy) that you're doing/offering, or talking about timely issues, like when it is sandal weather and taking care of the feet with reflexology or getting better quality sleep during the summer when you're likely to stay up late/get up early with the extra sunlight, etc.
Local Businesses or Charity Websites
This might take some more creativity, but finding ways to work together can lead to them naturally linking to your website. You can pick charities with the obvious foot connection, such as St. Jude Runs events or Race for the Cure events that attract runners/walkers or pick something that hits on your personal passion points and find a way to work together, which could be as simple as offering a percentage of your fee back to the charity given a certain time frame.
Event sponsors are typically listed on the event's website. While sponsorships can be pricey, smaller events that attract fewer people are more affordable choices as long as the people interested in the events match up as potential clients for you.
For local businesses, you can try partnering with them to offer mini/taster sessions to their customers (free or paid by the customers or the business). Or just partner up to refer clients back and forth.
Remember…
Don't be afraid to get really creative! Things that are unique tend to get more attention.
It's really important to think about what will appeal to the person you're pitching (how it can help their website or audience) and what the end readers (the potential new clients) will find interesting or helpful or somehow make their life better. If you focus on what YOU want people to know, it won't be as effective as if you focus on the benefits for THEM. Focusing on something win-win-win for everyone will help you get more exposure.
So which of these ideas sound like something you can try? Reply and let me know what you will try first. Or if you aren't sure how to approach any of these, email me and I'll be happy to give you more guidance.