Whether you're doing taster sessions at a wellness day event, speaking at a health fair, or doing an open house for World Reflexology Week, you want to maximize your marketing exposure with a little extra event marketing. Events are timely and time-sensitive making them more newsworthy than just running a business.
It doesn't matter if you are hosting an event or participating in one, this checklist can help you get more people interested. While it's technically geared towards hosting your own event, if the event organizers aren't doing these things, you can certainly do them on behalf of the event or create your version to offer an additional marketing boost.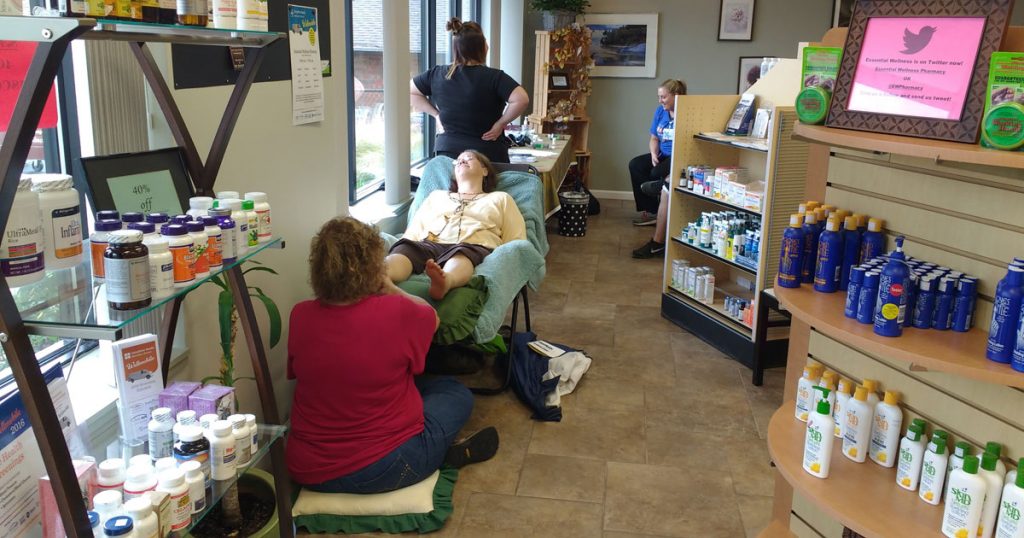 Note: This timeline is a guideline that you should adapt as needed. It's ideal for an event likely to take an hour or two and that's free or costs less than $30. If your event requires a bigger time commitment (all day or a multi-day event), has a higher ticket price, is something people will need to travel to, or takes place during an especially busy time of the year, you should start the promotions with more lead time. You also may need to adjust based on registration deadlines.
Regular events may on the other hand need even less lead time on the marketing as there's a general awareness already in place. A good rule of thumb for these type of events is to start promoting the next one at your current event. So a weekly event gets a week of promotion. An annual event isn't likely to be actively promoted for the whole year, but there should be some promotion starting that far out to capitalize on the current years attendees being excited and saving the date for next year.
You want to find a balance between giving people enough notice and time for buzz to build yet also keep it timely and relevant so they don't get fatigued from hearing about it and lose interest or forget by the time it happens.
Marketing Timeline
2-4 Months Before the Event (or as soon as the details are confirmed)
Send a news release to any local magazines or monthly newspapers that would be a good fit (including health and wellness topics, those targeting the target market of the event such as senior citizens, moms, runners, etc.) – note that most local magazines publish monthly or even quarterly and have deadlines for content at least a month if not several months before it comes out. Check out the 4 Steps to Free Publicity here >>
Add the details to all local event directories. Local newspaper and TV stations often have event listings on their website. To find other options, google "[the name of your town] events" and fill out the listings for at least the top few sites if it feels like a good fit.
Add it to your website's calendar of events
Mention it as a save the date in emails sent to your list
Post a save the date on social media
Create an event-specific hashtag to use on your posts and encourage attendees to do as well
(For bigger events) You can contact businesses around town with marquees (signs where they can change the message) to promote your event
Brainstorm other ways to get in front of your target audience to talk about your event such as speaking at a group meeting, attending networking groups who will help share the info, printing yard signs, advertising, etc. Check out this list of ways to market your business to get the creative juices flowing >>
3 to 4 Weeks Before the Event
Create a blog post about the event on your website
Create a Facebook event (Here's a video to walk you through it >>)
Send out a news release to local media especially talk show hosts who need more lead time for scheduling guests, doesn't hurt to send to the newspaper and other news assignment editors now to plant the seed.
Create a Google My Business event post (if it expires, you can post a new one as needed until the event)
Send an email specifically promoting the event
Post again on social media a time or two to start building excitement
Distribute flyers or marketing signage around town
2 Weeks Before the Event
Update your social media cover images to promote the event
Post in the Facebook event
Send out a news release to media you want to promote the event beforehand
Get creative and host a live Q&A or preview of the event
Remind any event partners to help promote the event
Talk it up with clients as you see them
Launch any contests or special promotions to drum up excitement and shares
Send out print mail going first class (if using) — bulk rate mail may need to go out earlier depending on how quickly your local post office processes it
Encourage those planning to attend to invite a friend
Week of the Event
Send the news release out to media that you want to cover the event such as the local news stations
Reminders and updates posted in the Facebook event
Post a few times to social media promoting the event
Send an email to your list reminding them of the event
During the Event
Consider doing a Facebook live during the event
Take videos and photos to post on social media, especially early on if there's still time to get last minute attendees
Provide an opportunity for attendees to join your email list
Start promoting the next one if it's going to be a reoccurring or regular event… even if annually, announce the dates for next year if possible (or just promote your next event even if it's a different type of event)
One to Several Days After the Event
Send an email to all new subscribers thanking them for attending and confirming that they've now been added to your list (and provide any freebies promised for signing up)
Share event photos in the Facebook event at least, and possibly on your page if it feels relevant
(optional) Get feedback via a post-event survey
If it's going to be a regular event… even just annually, update social media and your website to include at least the dates of the next event
[lepopup slug='5-free-graphics-inline']