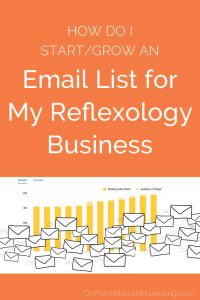 Whether you are just starting your email list or you'd like to increase the number of subscribers the following tips will help. If you haven't chosen an email marketing service yet (to help you manage your email list) check out part 1: How Do I Create an Email List for My Reflexology Practice? >>
There are many ways to get new subscribers for your email list. While it might feel important to have as many people as possible on that list, I'm going to caution that quality over quantity matters (always, but especially with email lists).
If you go over the free amount in Mailchimp or MailerLite (or you choose another email marketing service), you pay based on the number of subscribers. No one wants to pay $50/month on a list that isn't driving paying clients.
Poor quality subscribers are likely to forget they signed up or forget who you are and could mark your emails as spam which will hurt your ability to get into the inboxes (and not spam folders) of your clients and prospects.
You're more likely to be motivated to send out emails when your open rates are 50% or higher vs 10%. So if the people on your list want to be there and read your emails, you'll notice that in your reports and feel good about your time spent growing your business.
PRO tip: Along those lines if you've got a list of names from an event or somewhere where you collected names on paper that are 6 months old (or older) and you've never emailed them, do NOT (I repeat, do NOT) add them to your email marketing service such as Mailchimp or Mailerlite. Instead send them a message individually via your regular email account, remind them of how you got their name and ask if they still want to be on your email list since it's been several months/years since they signed up. Adding someone who forgot they even met you can lead to you be reported as spam which causes all sorts of issues you'd like to avoid.
[lepopup slug='5-free-graphics-inline']
Email Marketing Do's and Don'ts (aka best practices)
In general, you need to get permission to send email marketing messages and depending where you live, it might not just be about best practices, but laws you must follow. The various email service providers have their own rules and restrictions too. Here's Mailchimp's and MailerLite's as examples.
Basically best practices say
Get clear consent (aka ask permission) before emailing people (being your client doesn't equal being automatically added to your marketing list… you need to ask if they want to be added first).
Don't add people to your list if they haven't given permission. (Yes I'm repeating myself. It's that important.)
Be clear and honest
Make it easy to opt-out
Provide content they want to read or see as valuable, helpful, or beneficial in some way (this is what keeps them opening, and gets them to tell their friends)
Don't only send promotional emails (unless that's what you've promised and what your list wants)
Disclaimer: The following information is not legal advice. We are not lawyers and you should consult your own lawyer if you have any questions regarding interpretations of the law. This is meant to be an overview but please review the links provided to ensure full compliance with the laws that apply to you and your business.
In the United States you must follow the CAN-SPAM Act https://www.ftc.gov/tips-advice/business-center/guidance/can-spam-act-compliance-guide-business whose highlights include
Include a physical postal address in the email (some home based businesses operating by appointment only might hesitate, but the only options are to use your home address if you don't have a business location or pay for a private mailbox).
Make it easy to opt-out/unsubscribe from your email list (this is a big selling point of using a service like Mailchimp or MailerLite because they automate this for you).
Don't be misleading, deceiving, or provide false information.
In Canada there's the Anti-Spam Legislation http://fightspam.gc.ca/eic/site/030.nsf/eng/home and the main takeaway from this law is that you must have consent to send marketing emails (or any electronic message).
In the European Union things are a bit more complicated by GDPR legislation https://ec.europa.eu/commission/priorities/justice-and-fundamental-rights/data-protection/2018-reform-eu-data-protection-rules_en which applies a much broader scope than just email marketing, but also has had a number of impacts on email marketing.
Ways to Get Subscribers to Your Email List
This is an overview for idea brainstorming. More detailed information is included in the More Feet Club.
Offer an incentive such as,

NOTE: GDPR rules for the European Union are a bit more strict in how things are worded. Shout out in the Facebook Group if you more details on this.
Entered into a monthly/quarterly drawing for a prize, discount, upgrade, etc.
Freebies such as a guide, checklist, quiz, assessment, or tips relating to your area of specialty, such as "5 tips to reduce plantar

fasciitis

pain"
Discount, free upgrade/add-on, or other coupon or gift such as a sample of a product you sell (discounts are not my first choice as an ideal opt-in incentive unless your business model includes regular discounts)

Sign up form on your website (in fact several, in several places, on every page, consider exit intent pop-pops — these only display when a viewer appears to be leaving your site so it doesn't disrupt their user experience)
Sign up form tied to your social media accounts

There's lots of ways to incorporate the links from your cover images, bio/about blurb, sharing the link as a post, etc.

Sign up sheet at any events you attend where you are speaking, offer tasters/mini-sessions, have a booth, etc. (then email everyone after the event thanking them for their interest, confirming they've been added to your email list and as an added bonus you can encourage them booking a session too)
Check box on your new client intake forms to be added
Ask current subscribers to tell a friend
Run a contest (instead of having an ongoing incentive, offer one as a temporary contest. Note the prize needs to be more substantial to work well and should be tied to your business. Giving away a $50 amazon gift card for example will not produce the type of people you want. Giving away a free reflexology session on the other hand means the people signing up are likely to interested in a session with you.)
Make sure your sign up forms are easy to find and use — asking for just their email or maybe also their first name is going to increase sign ups vs asking for more information
Offer great content that gets subscribers talking and telling their friends
Crossover promotions with another business who targets a similar audience (can be paid or a trade or another agreement that benefits both businesses)
Test your copy and other variables (maybe the sign up button on your website doesn't stand out, or the wording doesn't cause interest, etc.)
Add a link to your email signature
Send an email through your regular email account (Gmail, Outlook, Yahoo, etc.) to anyone you know who might be interested one-time mentioning the benefits and giving a link for them to subscribe
Promote it via paid ads if you have a good incentive
What About Transactional Emails?
Any discussion about email best practices should clarify the distinction between transactional and marketing emails. Transactional emails are based on the transaction of your client's appointment, such as a confirmation or reminder of their upcoming session, receipts, or session specific follow-up emails, etc., and are sent only to one person at a time regarding their specific transaction/purchase/session with you. You don't have to get official permission to email clients in this sense, though if they request not to get these emails it's best to honor that. You can have some marketing messaging in these emails, but the focus and purpose must be on the transaction/session booking itself. Again with the GDPR those in the European Union also have to follow those standards especially in regards to data privacy and storage.