When was the last time you reviewed your Google My Business information? Did you know they have added many new attributes related to COVID-19?
What do you do when you see emails like this? Do you assume your regulars know when you're open and not worry about it?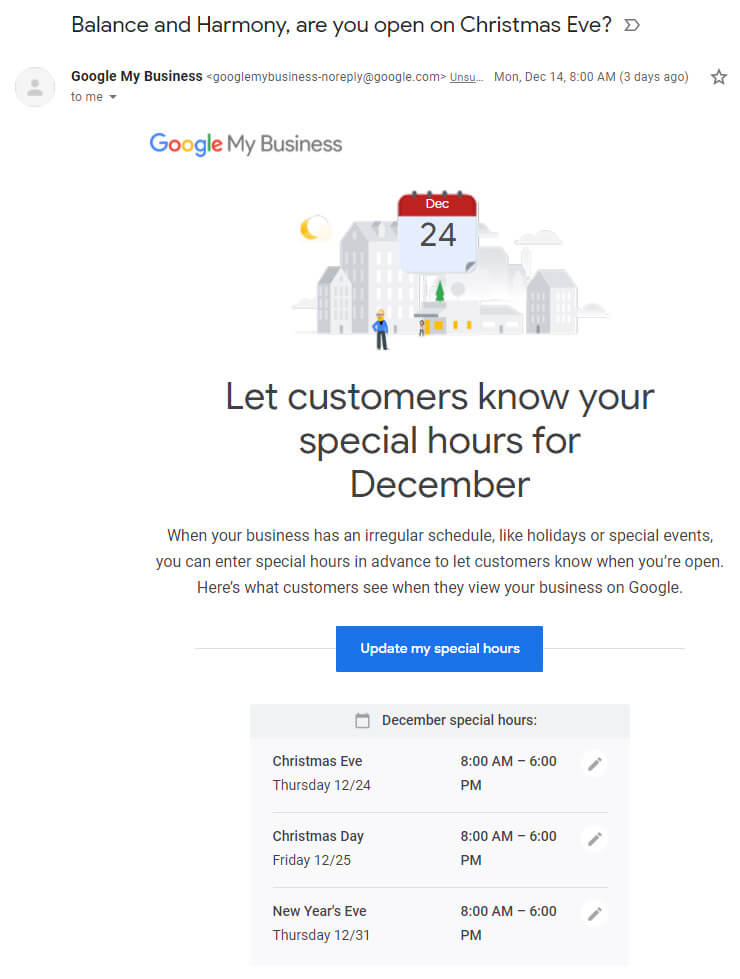 The Client's Perspective
I need to pick up something from a local baker today, but I don't like making decisions on the fly and I don't like making phone calls, so I like to do my research ahead of time to be prepared.
On the first bakery I looked up, I noticed on their Google listing that they are doing both in-store and curbside pickup. Yay!
Next I went to their website to see what my choices might be. There was a big note on their screen letting me know about holiday orders as well as this one on their hours and that they need 24 hour notice on curbside pickup. Boo. Somehow I didn't think about that. I assumed I could call and show up a little later for some reason. I also noticed as they scrolled the page that they do offer gluten free items so I could even get something for myself if I'm making the trip, yay!
But I would prefer to do curbside pickup today so I went to check the other bakery's info. Nothing listed on their Google listing but the description area simply states takeout.
Their homepage doesn't mention anything at all about curbside pickup or any modifications to hours or anything, but does have a Facebook link in the footer. So I check their Facebook page… but again nothing mentioned. I do see lots of pictures of what they offer though, so that's helpful.
So which one am I choosing? The one that offers curbside pickup info clearly and offers gluten free options. I feel that I can at least trust they are taking things seriously even if I have to go inside. I like that the expectations are clearly provided to avoid confusion too.
On a similar note we're taking a trip to Gulf Shores for some beaches, nature, and warmer weather. I was looking ahead for restaurants that offer gluten free options and outdoor seating. Again as I'm looking for information, even places where I've found reviews talking about eating gluten free there, they don't mention anything on their website about it. Sometimes I found their website linked from other sites and got excited after reviewing the website about only to visit either Facebook or Google maps to see that they are actually closed (some for COVID, some seasonal and others due to hurricane damage). It was confusing and complicated to decide which information was actually correct as it wasn't consistent between their website, Facebook, and Google.
[lepopup slug='5-free-graphics-inline']
Adapting the Story to Reflexology
Now being reflexologists this isn't exactly the same, but I think it shows the importance of making it easy for people who are interested in reflexology to know what you are doing not only regarding COVID, but also just the upcoming holidays.
If you're selling gift certificates for example, are you prepared for last minute shoppers? Do you allow people to pick up gift certificates in person? Do you mail them? Do you email them?
Are you open over the holidays or closed?
What modifications have you put in place to protect your clients regarding COVID?
These are things that should be clearly communicated on your social media pages, your Google My Business listing, and your website. Some people may only check one or they may check all and it's important that they have clear and easy to find information. Don't make them hunt for it.
Google My Business has added some new options recently so if you haven't reviewed all the areas, including special links for your COVID-19 info, virtual care, attributes, special hours, etc. Check out this walkthrough of the options and where to find them.
If you're not using Google My Business already, you may want to start with this post, "Do You Show Up First On Google Maps And Google Searches?"
New Attributes and Special Hours Options on Google My Business
Unfortunately the 3 Google My Business profiles I checked all showed different options under the "From the Business" attributes. Here are some you might have available:
Also these different link options were not consistently available, but you should use them if they apply and you have the options in your info area.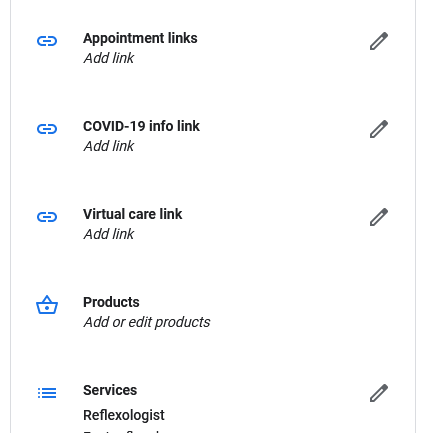 Don't forget you can promote Gift Cards too!
You can use the Google My Business POST option to details on buying gift cards. If you need graphic ideas, check out the More Feet Club content. (Member content) (Become a member and save time with ready-to-post content!)
Don't forget that GMB posts expire after a week, so you'll want to post regularly. I have tutorials using RecurPost's free plan as an option to keep fresh posts up too in the More Feet Club.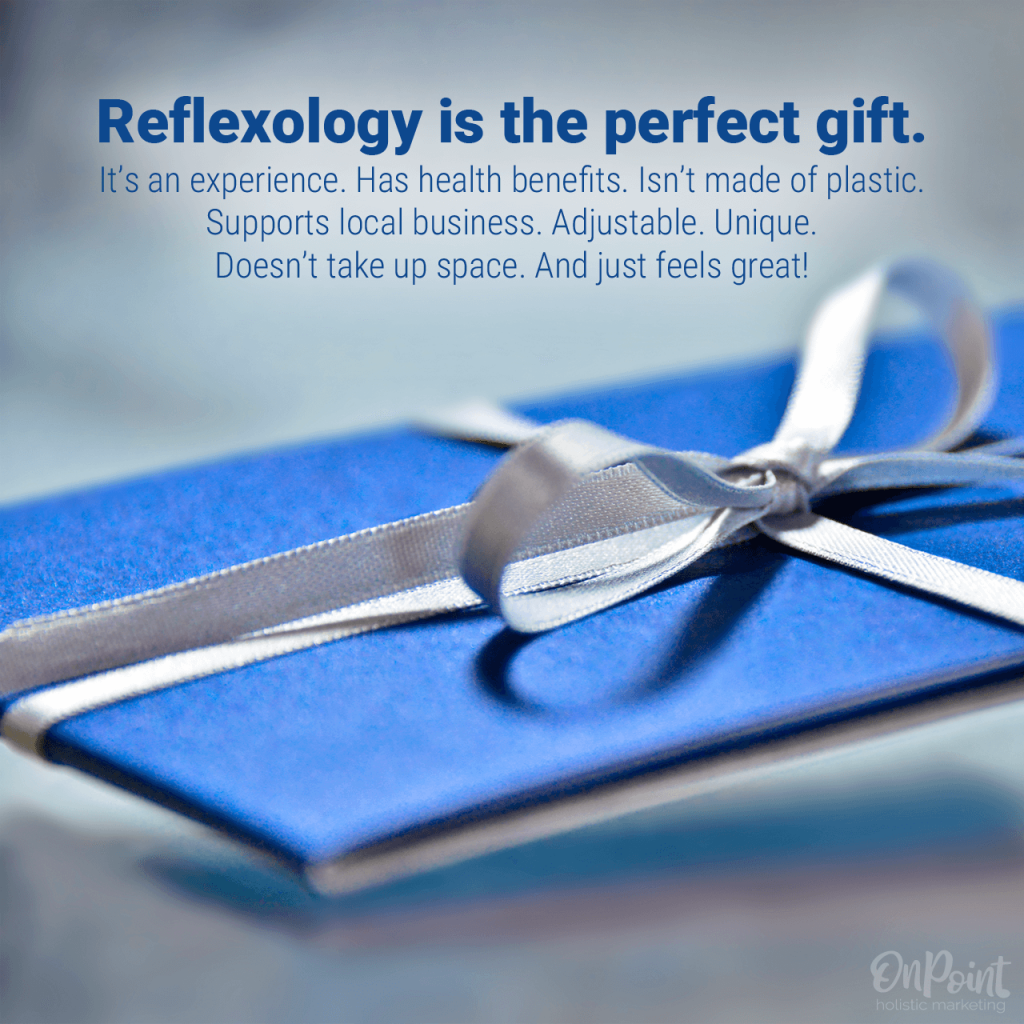 Get a Free Sticker "Review Us on Google"
Did you know you can get a free marketing kit from Google too? It's not super fancy and they aren't offering to mail you an actual sticker, but you can print one or use their file to have it printed yourself at least. They also offer a few templates for posters you can print for your window too.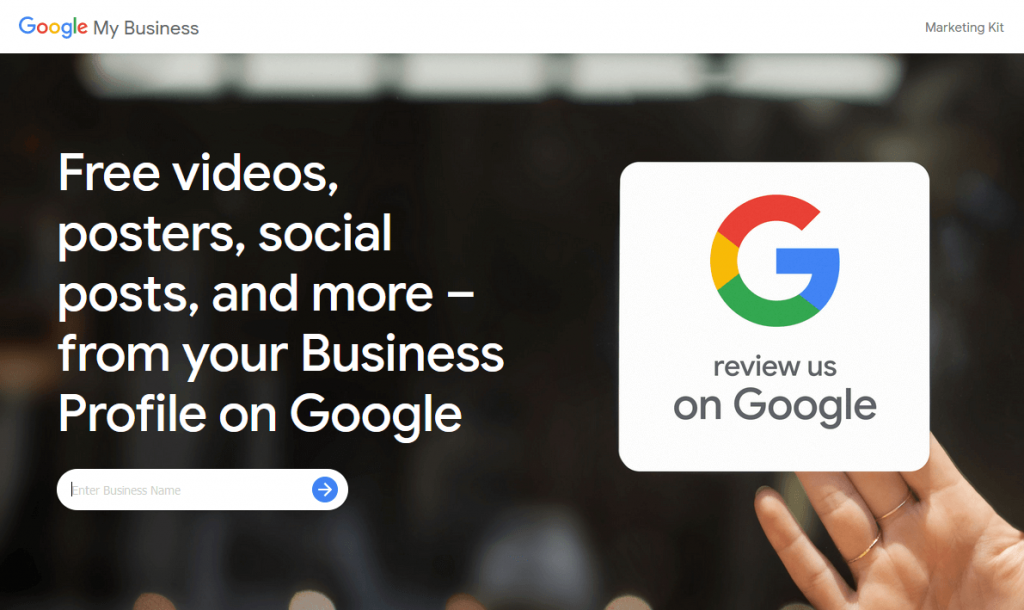 Just type in your business name (it auto populates as you start typing)
Then keep scrolling down the page to see the various items in the kit they offer.