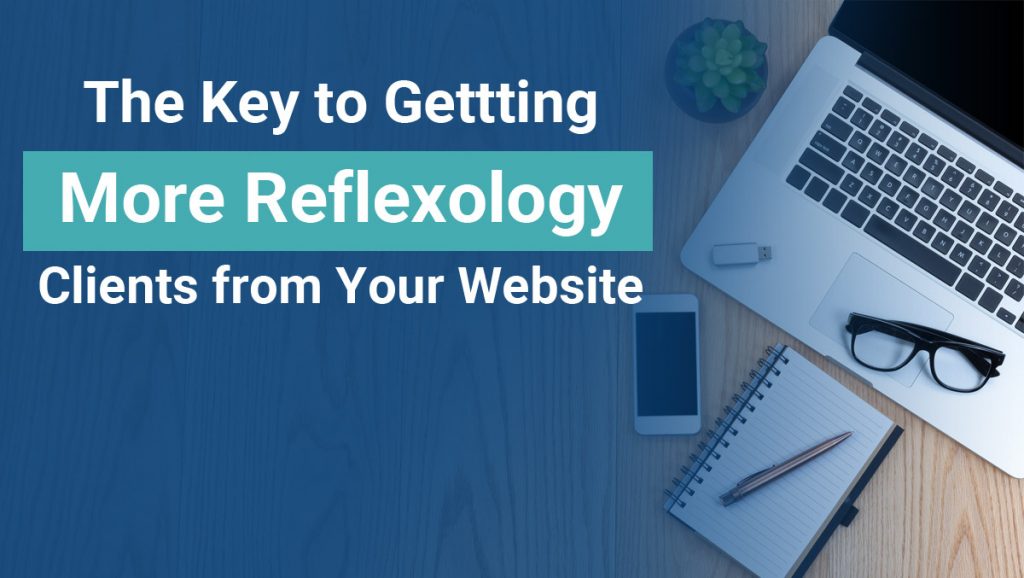 I could argue a lot of things are important. But the one thing that stands out among the rest?
The content.
There's a trend these days to have minimalist websites with very little content and I think that's the wrong way to go. It doesn't provide potential clients with enough information to feel comfortable making a decision to choose you. On the other hand, you don't want to overwhelm them either with too much information.
You need a good balance.
And you need information on the homepage that sets the tone for their whole experience.
Before founding OnPoint Holistic Marketing, I did freelance marketing building websites, managing social media, etc. for small businesses like yours. One of the first websites I set up was for a reflexologist. She says she gets around half of her new clients from her website.
She gets compliments again and again on how "warm and inviting" her website is.
New people contacting her for an appointment have mentioned that they were looking at a few sites, but her website is why they choose to contact her for a session.
[lepopup slug='5-free-graphics-inline']
What content does your website need?
In deciding what content your website needs, it helps to first think about what you want your website to communicate to potential clients (and current clients).
How do you want them to feel?
What is the most important thing about reflexology you want them to know?
What do you want them to know that makes you the person they should book a session with?
Why are they wanting to try reflexology? What issues or challenges are they facing?
Why are you the right person to help them?
Answering those questions will help ensure you're using the right words and images to attract and connect with your ideal clients.
Better yet… use this worksheet to answer the questions and save a copy to your email!
Homepage
This is typically the most important page on your site. It's the page your Google My Business listing, social media profiles, other directory listings, etc. will link to. It's ultimately where most of your site traffic as a reflexologist will likely land first, unless you've got some awesome pages/posts driving lots of SEO traffic.
Your headline and "hero" image set the stage and often that alone can determine if visitors want to keep reading or leave your site. (Hero image is marketing speak for a larger image at the top of your site. Basically the first thing people see when visiting your site.)
The copy on this page needs to address the questions above.
You also want to think about what the next step is for the site visitor. Your first goal is probably booking a session, so make sure it's easy to see how to do that, and really that should be clear and readily available on every page of your website.
But many times they might want to read more about your services, your prices, they might have questions, etc. So think about what they might want to know more about before booking and make it easy for them to find that next step.
Services page
For that reflexologist site I mentioned earlier. For the last 90 days (according to Google Analytics) she's had about as many people visit her services page as her homepage. Most of them visited the homepage first and then went to her services page next.
How you handle this page, will depend a bit on how many services you offer. People like to have a few choices and understand the differences, but too many can be overwhelming too. Once again it's about finding a balance.
Explaining the services is important too. If you have multiple reflexology services or other types of services, don't expect people to all know how they are different or which one they should book.
Specific pages/posts
If you have a niche specialty, it's great to have a page or blog post dedicated to talking about it a little more in-depth than a description with a few sentences on your services page. These specific-focus pages can be great for SEO when someone is searching on that topic too.
Photos
Stock photography makes it easy to find reflexology photos. You can find some reflexology images on the free sites like Pixaby, Plexels, and Unsplash (those are my favorites for quality among the free sites). However, you'll get more diversity and better quality photos from paid sites. Deposit Photos, Canstock, and 123rf are more affordable options, but BigStock, iStock, Shutterstock, and more sometimes have even better options but cost a little more.
That said, NOTHING beats having photos of you and your reflexology space on your website. Even if it's just having a friend or family member take them for you, having at least a few of you and your space on your website will help people truly see themselves on your reflexology table or chair.
Check out the "How to Take Photos of Your Business (Without Breaking the Bank)" post.
Other pages
You'll need other pages too of course. Ideally an about page, contact page, and others depending on what other products or services you offer. FAQ pages can be helpful too. Blog posts are great to have, but if you know you won't be good at regularly adding new, then don't worry about it.
Content helps your website work for you
Of all the clients over the 10 years I did freelance website marketing, there has been one hair stylist and one esthetician who let their sites go after a few years because they didn't feel they got enough traffic to justify the cost.
These are two of the clients I've had with the fewest amount of words on their websites too. I encouraged both of them to add a bit more content and they just didn't want to and it wasn't in their budget for me to write it for them. So we left it with what they provided.
It takes more than content to bring in new clients though…
These two businesses also did nothing else to drive traffic to their sites either though. They expected just having a site magically meant lots of site visitors. And that's not how it works. Google looks at many factors to decide which websites to show in their search results, content is part of it but so is your traffic from other sources too. But that's a topic for another post.
I also have one spa and nails client who has a minimalist website. While they do get decent traffic, the vast majority of it is people who have already found the business and are searching for it by name. Not those searching for the specific services offered.
What website questions do you have?
Let me know in the comments below!
You can also check out these related posts or join the More Feet Club for step-by-step guides.
Business is Closing
Thanks for your support. Website content is available until March 15, 2022. Please disregard any mentions of the More Feet Club, the email list, or other paid services.