Here's a quick reference guide to a couple common social media words that you might not have heard before. We'll start with Facebook and Instagram as they are the most popular and the ones that overall tend to be a good fit for reflexology clients (if your audience skews younger, male, or towards business professionals, that may vary of course). Want help figuring out which platforms are best for your audience? Start a post in the Reflexology Marketing Facebook group>>
Facebook Personal vs Business Pages
When you create a Facebook account you are given a personal account. You can control who you accept as a "Friend" on Facebook and when you post, you can control the settings to show only to friends, only to certain friends using lists (request a post or tutorial if you want to know how to make custom friend lists), or to the general public.
As a business owner, while you can post business related information on your personal newsfeed, you really should create a business page. This post digs into the question, Do I need a Facebook Page as a reflexologist?
In general, I'll recommend you mostly post business content on your Page, not your personal feed. But you can occasionally share from your page to your personal feed or just post directly to your friend list too. It's good to occasionally remind them about your business, but not everyone you're friends with wants to hear about your business all the time… if they do, they should like your page to support you there.
[lepopup slug='5-free-graphics-inline']
Facebook Story vs Newsfeed posts
First we're going to look at the desktop view. Meaning what you see when accessing Facebook via your computer or laptop. I've highlighted a few areas in yellow and added comments in red text.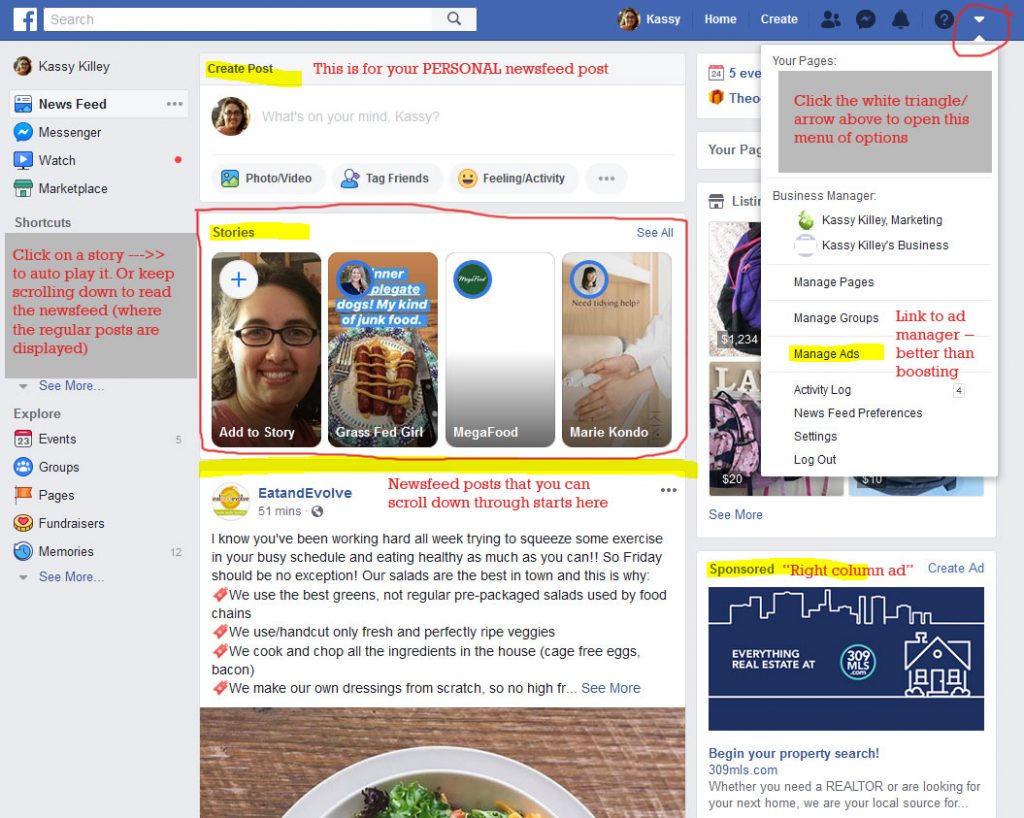 If you've started using Facebook before 2017, you only had a newsfeed and could scroll and see all the posts your friends and pages you follow made. And for many people, that's still how they primarily use Facebook, by scrolling the newsfeed posts which pulls in posts from friends, pages, groups, and of course advertisers.
Stories are highlighted in a red box just below the "create a post option." You'll notice that Facebook wants to encourage people to use and see them and have made them more and more prominent since their introduction a few years ago.
To view the stories, click on one of them. It will open up and start playing them. You don't have to click or scroll or do anything. They will automatically play through each one. You can engage though if you want to go faster (tap/click on the right), pause to read it all (tap and hold on your phone or click the pause button on the computer), go back to a past one that went to quickly (tap/click on the left), or react, comment and share the stories.
The Facebook mobile app works similarly (using an iPhone vs Android app vs the mobile version of Facebook via your internet browser might look slightly different than the screen shot below). You have the stories at the top, the option to post to your newsfeed and then the posts from friends, pages, groups, and advertisers that you can scroll through below.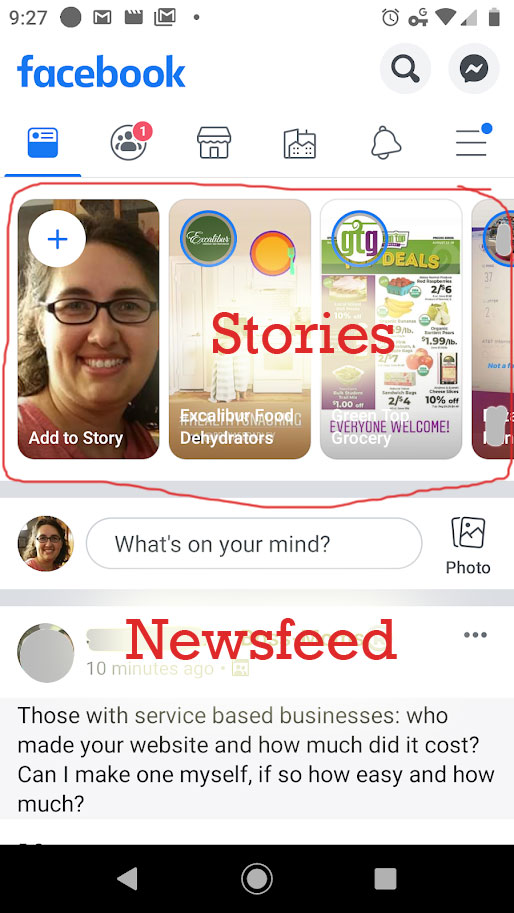 How to Post a Story
It's really easy to post a story to your personal feed. Just click on your profile image in the stories section. You'll then be able to then take a photo or video or upload one you've already saved. Members of the More Feet Club can upload the monthly graphics once saved to your phone or computer depending which one you are using.
It's better to post them to your business page. Or mix and match. Stories only last in the feed for 24 hours, so you can post something to your business feed this week and in a few weeks post a variation to your personal feed. Stories are meant to be more timely and instant, so you can't schedule them unfortunately.
Go to your Business's Facebook Page.
If you have a round profile picture with a plus sign, you're in luck. If you don't see it and yours is still square, if you're on your phone, try your computer. If you're on the computer, try your phone. Facebook seems to be rolling out the changes and someones one version but not the other has it. Sometimes neither or both do.
Click on the plus sign. If you click on the photo, it will prompt you to change your profile image.
Then upload your graphics or take a photo/video.
Add text, special effects, etc. as desired and publish it. Note that you'll have different options on your phone vs computer. The computer will even let you publish the story to your newsfeed too (still can't schedule it this way).
Using the mobile app, you can see some icons faintly at the top of the screen. You can also swipe up to get sticker options. If you accidentally pick one you don't like, drag it and a trash can icon will appear to remove it.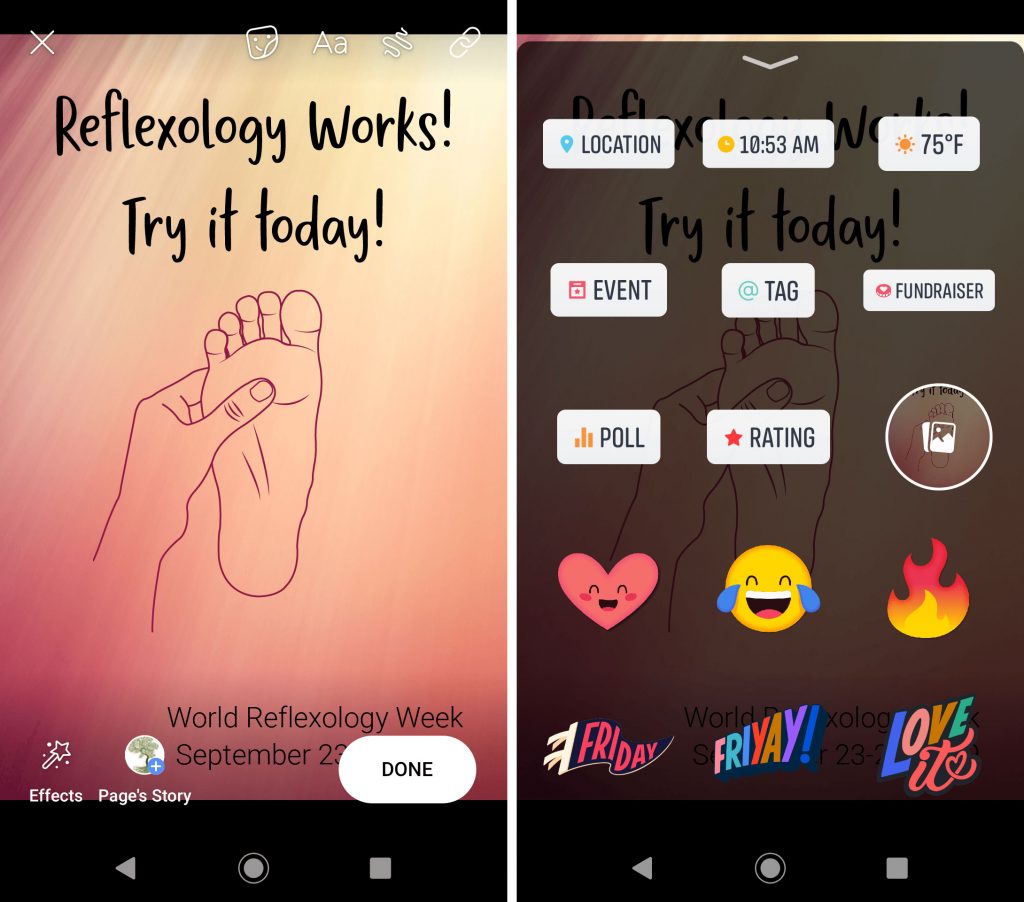 See how different images sizes work on Instagram newsfeed vs stories
Want a quick list of other Facebook terms? Check out this glossary put together by Social Sprout >>
Want to see other terms from Facebook or other platforms covered here? Let us know in the comments and we'll get it added for you.