This is part of a series of posts to help you navigate the COVID-19 Quarantine. New posts and resources will be released over the next few days and maybe weeks as we see where and how things are going. If you haven't already joined the Reflexology Marketing Facebook group, I've got a pack of free graphics for all the members to use right now. There will also be updates and announcements of new resources announced via email, so sign up now if you haven't already.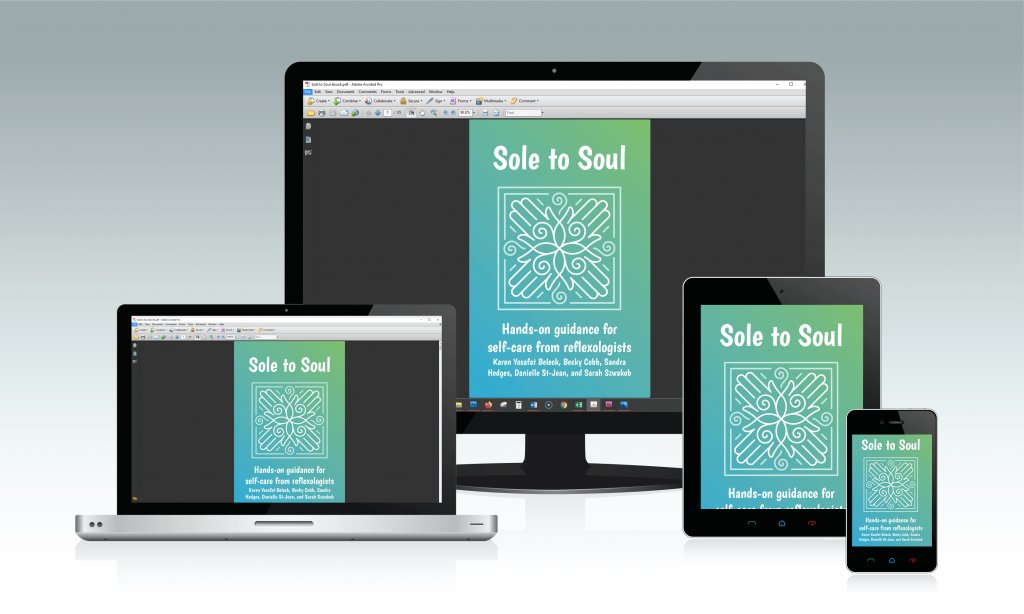 Building off the Collaborative eBook Project we facilitated, here is advice on how to market and sell your ebook. While written with our collaborative authors in mind, these tips will help all of you embarking on new revenue streams by writing an ebook. Other tools for selling digital services are covered briefly in our comprehensive guide to running your reflexology business virtually during the quarantine.
Note: For books available via print or Kindle editions, most of this still applies but the links and selling process may be slightly different since this is written towards an audience selling their own PDF ebook.
How to promote your PDF ebook
You can promote your booking using any or all of the following:
Your website – have something on your homepage to promote the book and catch attention, but also create a separate page that you link to with more details.
Social media – you can encourage your social media followers to buy your book (don't forget Google My Business and LinkedIn in addition to Facebook, Instagram, etc.) (Social media resources)
Email – send out an email to your list promoting the book, then you can also include a section in future emails reminding people about it too. If you don't have a marketing email list, you can still email clients, friends, and family via more personal emails making a suggestion that you think they'd like the book. (Email resources)
Media publicity – send a news release to the local media announcing you've released this new book. (Publicity resources)
Ask for reviews – ask the people you know who purchase the book to post reviews on your social media pages.
Reach out to local bloggers or influencers – often if you provide them with a complimentary copy they will publish a review promoting the book to their audiences
Partner with other local wellness businesses to cross-promote – do you know anyone else offering an ebook locally or other digital services that you can agree to promote each other's items to your audiences?
Run a contest or promotion – by offering a couple of free copies you can use the interest to build your email list, or get more organic reach on social media. There are rules to follow when it comes to Facebook contests.
Need more details on using any of these marketing strategies? Check out the other blog posts on this site which cover many of these topics. More Feet Club members also get more detailed guides and tutorials on these topics too.
Reflexology Marketing Blog Post Topics Include:
Selling Tips for your eBook: Visuals
For the collaborative ebook project, here are 2 of the images I provided to the contributors to help them promote their ebook. It's important to help people visualize what they are getting and how they can use it.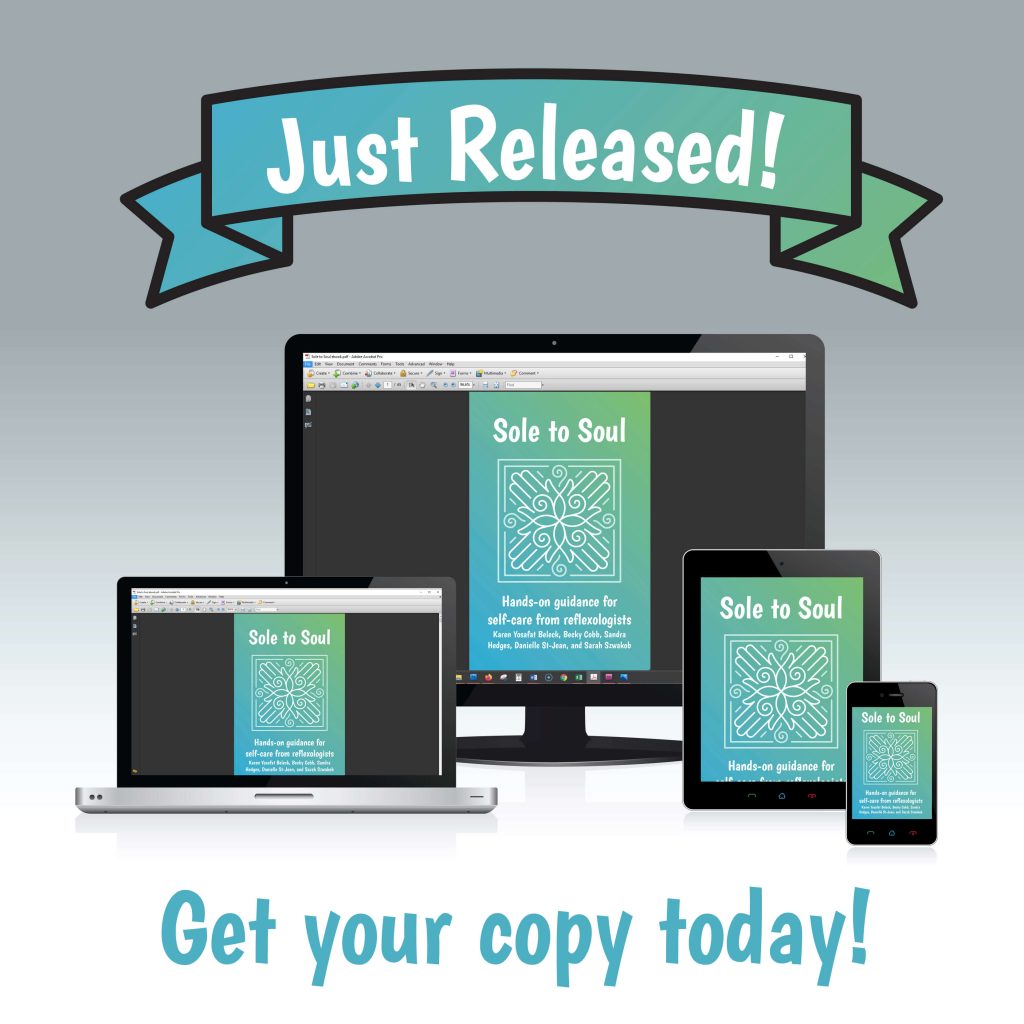 This is why this graphic shows the book cover on several different devices where they can read it to help the buyer visualize it.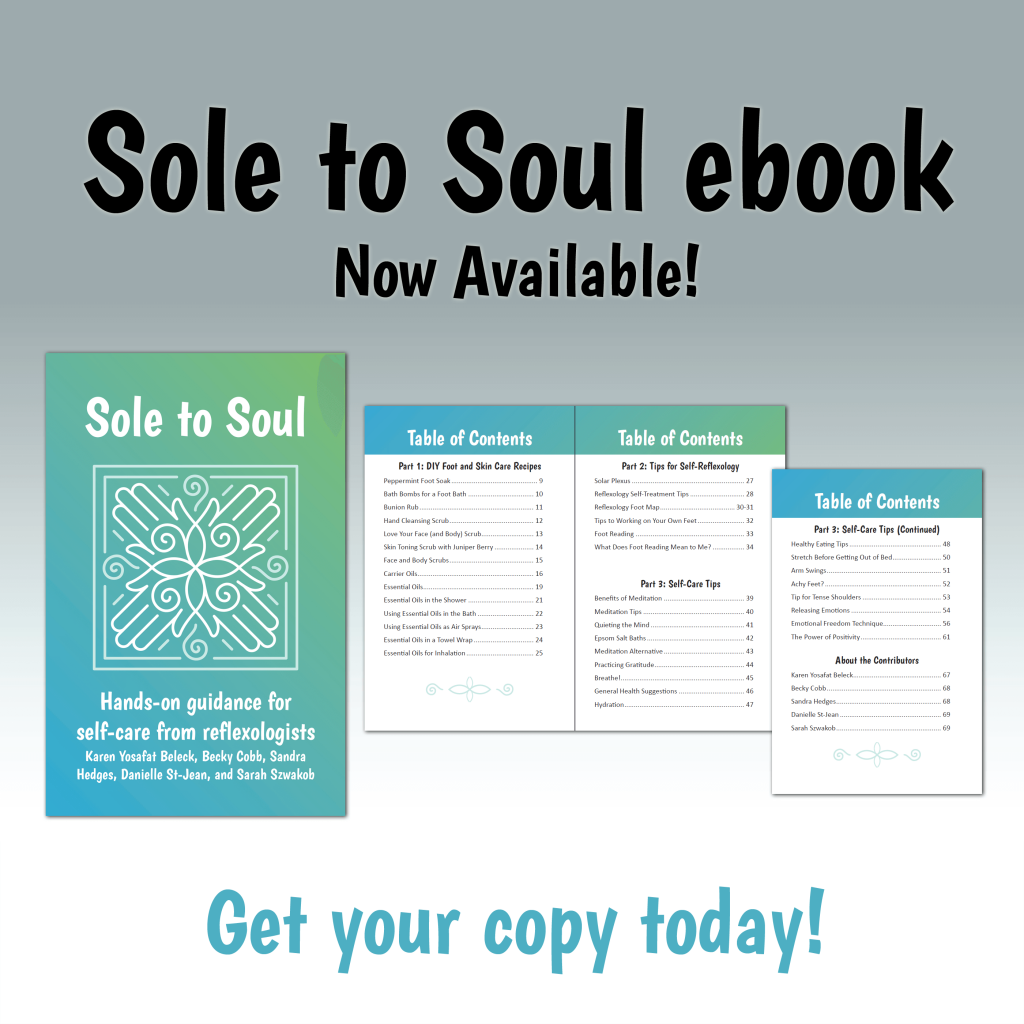 The second image includes the full table of contents so they can see what is included and the value they'll get from the book.
You can also make an excerpt available which will also help them get a feel for what to expect and get them interested in reading more.
Book Descriptions that Sell
You'll also need to write a description that will help the audience recognize why they should purchase the book. You'll want to create interest and a desire to purchase. Think about a "hook" for the first sentence to grab their attention. Then describe the "pain points" or issues the reader is facing and how your book will solve their problems. You can optionally include something to indicate why you are the expert they should trust along with a testimonial or brief quote about it. Bonus points if the quote is from someone people recognize and trust.
Example for the Sole to Soul book project (written during a time where most are sheltering-in-place and physical distancing and can't get reflexology sessions.)
It's common to put self-care on the back burner, especially when our world feels turned upside down during the current pandemic. This book is packed with small tips you can use to revive and revitalize your soul, including a few self-reflexology tips for your soles. You'll get some of my own wisdom along with that of 4 other reflexologists across the globe including DIY foot and skincare recipes, self-reflexology tips, and self-care tips.
[lepopup slug='5-free-graphics-inline']
How to manage the sales process
Promoting the ebook is one thing, but what do you do when someone wants to purchase it? First, you need to make a few decisions to decide the best option for you.
Are you willing to spend a little to make the process work without your involvement once they click "buy"? Or are you willing to do a bit more work emailing out links to save some money? It's the age-old choice of time vs money.
How many copies do you think you'll sell? Will you sell a bunch when you launch the book and not much each month after that or will you sell a steady stream each month? There are different services with different pricing structures. The flat monthly fee doesn't make sense if you plan to sell most of them in a single month and not many after that for example.
Do you need to charge sales tax / VAT / GST/HST depending on where you live? Some options for managing the sales process make collecting sales tax easier than others.
How concerned are you about buyers sharing copies with others? You can never prevent someone from sharing a copy with others… there are always ways around protections for the most determined.
Do You Need to Charge Sales Tax?
You are responsible for knowing your local laws regarding sales tax or VAT in the EU. Please double-check and confirm with your accountant and local laws. Before choosing a service, you should confirm if it will help you with sales taxes if you need to collect them.
In the US, here's an article that can help you understand if you need to charge tax on an ebook. It varies state by state.
In Canada, I found this statement, "If you're selling digital goods, the same tax rules apply [if you are or aren't GST/HST registered and which you charge]. GST/HST is charged depending on the billing address of the customer."
In Australia, I found this, "As of July 1, 2017, Australia has implemented the GST on all digital goods, also known as the "Netflix tax". Therefore, a business with an annual turnover over $75,000 will be required to charge GST on all digital products."
In the EU it's a bit more complex, but here's a summary of how it works. And even if you don't live in the EU, you might still be required to charge VAT on digital goods like ebooks if your buyers are in the EU per this article. Basically if selling in the EU, I'd use a service designed to help you with the tax collection.
Lowest Cost, but a Little More Work Options
While I've provided options below here's the plan I'd use in this category if you don't want to make a decision: set up a PayPal button that sends buyers to a hidden page on your website that contains a link to the PDF ebook via Google Drive.
You can host your PDF ebook for free on link-sharing sites and I've set up the demo file of the ebook (not the actual finished book, but the example I gave of what it could look like) on a couple so you can see what the experience is like.
You'll have to set up the payment and provide access to the book separately. All of these options give you the choice to add restrictions, if you're concerned about sharing or people accessing it that haven't paid, but I don't think that's necessary, only if you want to take those extra steps. They do get in the way of making it easy and a good experience for the buyer.
Hosting the eBook Link on Your Website
Most website platforms will allow you to create a page on your site that isn't available to the public. You'll need to do 2 things to protect it at a minimum.
Remove any links to it from the menu or navigation options on your site. Also make sure it's a page and not a post, because posts will show up in archives and categories, etc. They are much harder to hide than a page.
Tell the search engines not to index or show the page.
Optionally you can also add a password to the page, though I'll caution to skip this if your audience isn't that tech-savvy as you'll spend more time than you'd like helping them access the page if they misplace the password or don't read the instructions carefully.
I've shown how to do this using WordPress (classic and Gutenberg), Squarespace, and Wix in this video.
Hosting Your eBook with Google Drive, Dropbox, Etc.
The file-sharing sites all work similarly. You can have a certain amount of storage space for free and have to pay if you use more. You can share links to the files that anyone can view with your link, or you can add restrictions.
If you want to restrict access to only the people who buy, it's more work on your end, takes longer for the buyer to be able to access the book, and can be a worse user experience for the buyer. So I would suggest just using the public link that anyone can view and trusting they won't share it with others. But if you want to add an extra layer of protection you'll need to add each buyer's email address to the list of people approved to view the file.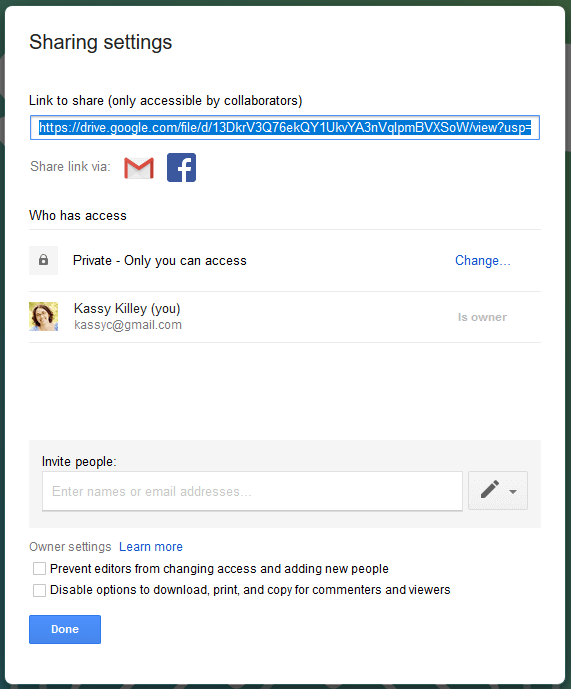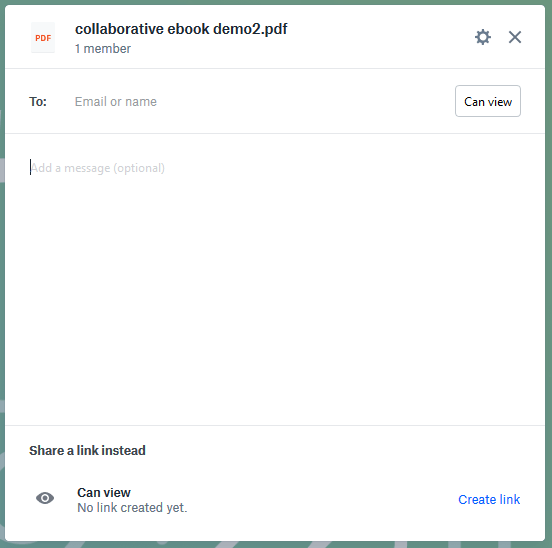 Accepting Payment (Lowest Cost, More Work)
You can go completely manual and ask people to mail or drop off their payment to you. This avoids all transaction fees, but for a digital ebook, it doesn't feel user friendly. I think the small transaction costs are worth it to make the process easier for the buyer (and they are more likely to buy if it's easy).
PayPal Button
You can set up a PayPal button on your website and then set it up to manually redirect to a "thank you" page on your site that contains the ebook. The fee for this is only the transaction cost 2.9% + USD $.30 (so on a $9.99 ebook, PayPal keeps $0.59 of the purchase price.) You'll have a transaction cost with any service that allows you to accept credit card payments or online payments and this is pretty much the standard base rate for this.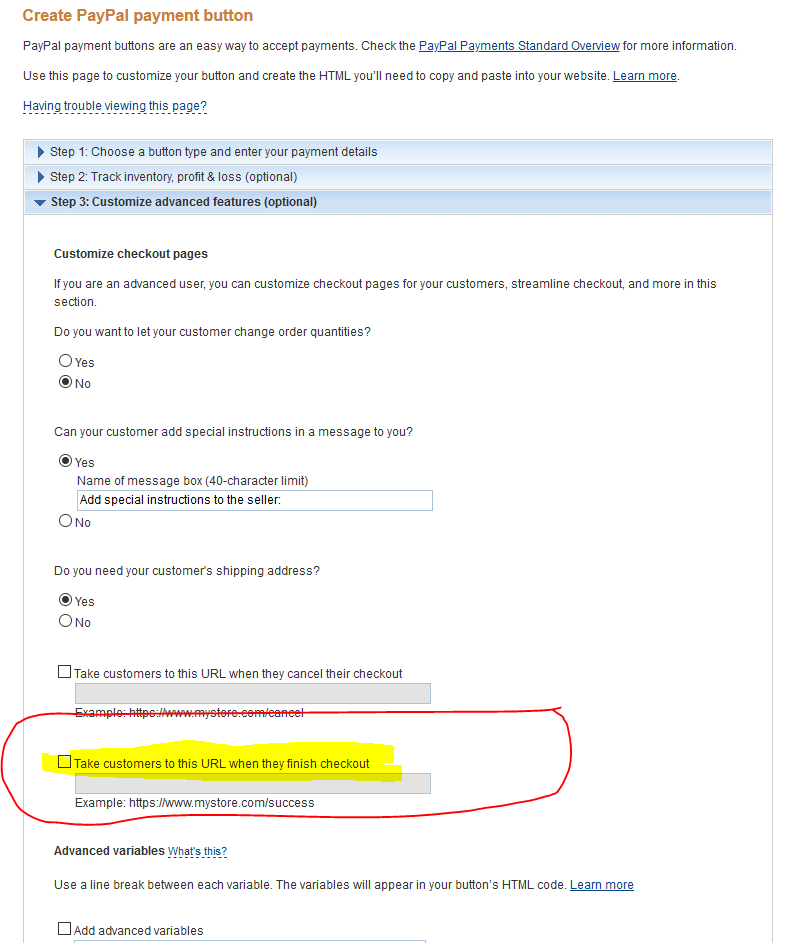 The downside is sales tax/VAT/GHT isn't automated and you'll need to manually set it up.
You can use other online payment options as outlined in the linked article too.
The other downside is that most of these will require you to do some manual emails to each buyer with the link to download the ebook in case they didn't save it from the thank you page.
More Streamlined and Simple Selling Options for Your eBook
There are a lot of services that process the payment for the ebook, collect the taxes as needed, host and deliver the ebook file for each purchase making the process simple for you. They are often set up for people selling enough each month to offset the monthly fee for the service. I'm only listing options that don't have a monthly fee and instead just charge a little more per transaction. If you want to check out those with a monthly fee, the most popular are SendOwl Basics ($9/month + payment processing transaction fees) and Shopify Lite ($9/month + payment processing transaction fees) or Etsy ($.20 listing fee + 5 % Transaction fee + 3% + $0.25 payment processing fee)
No Monthly Fee with Forever Plan – only get charged when you sell an item
5% transaction fee to Payhip + 2.9% + 30 cents transaction fee to PayPal/Stripe (this means about USD $.50 to Payhip per book priced at $9.99 and $.59 to PayPal/Stripe for a total of $1.09 in transaction fees per book)
Payout is instant assuming all is good with Stripe and PayPal
Includes VAT if you plan to sell to anyone in the EU
You can do sales tax for other countries, but PayHip is based in the EU and that's what they focus on, here's what customer service said when I asked about it, "It's a bit more nuanced when it comes to other international sales taxes, for example sellers can be exempt from US taxes if their country of origin has a tax treaty with the US. Since it's so complicated in this area, we decided that we can't automatically handle all aspects of other forms of international sales taxes. So you or your accountant would need to deal with the paperwork and submitting of taxes which aren't EU VAT related. We can make the entire process easier for you though, here's how: 1) Please get in touch with an accountant and they'll explain the states and countries where you're liable to pay sales taxes for 2) From the Settings > Taxes page you can set up all the countries and states that you'd like us to collect taxes for during checkout. 3) We'll collect the taxes and provide a monthly sales report which shows the total amount of taxes that have been collected in each territory and you can then simply use this report to pay sales taxes in those territories."
Instant product delivery
Limit downloads (so each buyer can only download it 3 times)
Clean and nice purchase page (you can see more examples at the bottom of their homepage. Here's one with more text and one that's a bit more simple.)
They have a no-monthly-fee plan where they charge more per transaction, similar to but slightly higher per transaction than PayHip at 5% + charge fee (3.5% + 30¢), as well as a flat-rate monthly fee with lower transaction costs.
They have help pages that explain how sales taxes work for the US, Australia, and the EU to see if it will work well for your needs.
Example of the purchase page, which I don't think is as clean as PayHip.
Based on my research and the fee structure, I'd go with PayHip unless you find that Gumroad works better for your sales tax collection needs. That's the only major difference I see where Gumroad has an advantage, or having the option to start on the basic plan and upgrade if you start selling more items.
---
Have you seen these other COVID-19 Inspired posts?
---
Comments, Questions, Need More Details?
If you need some more specific tutorials, I'm happy to create them if I know it's going to be helpful and what combos you're likely to use. Comment below or contact me!