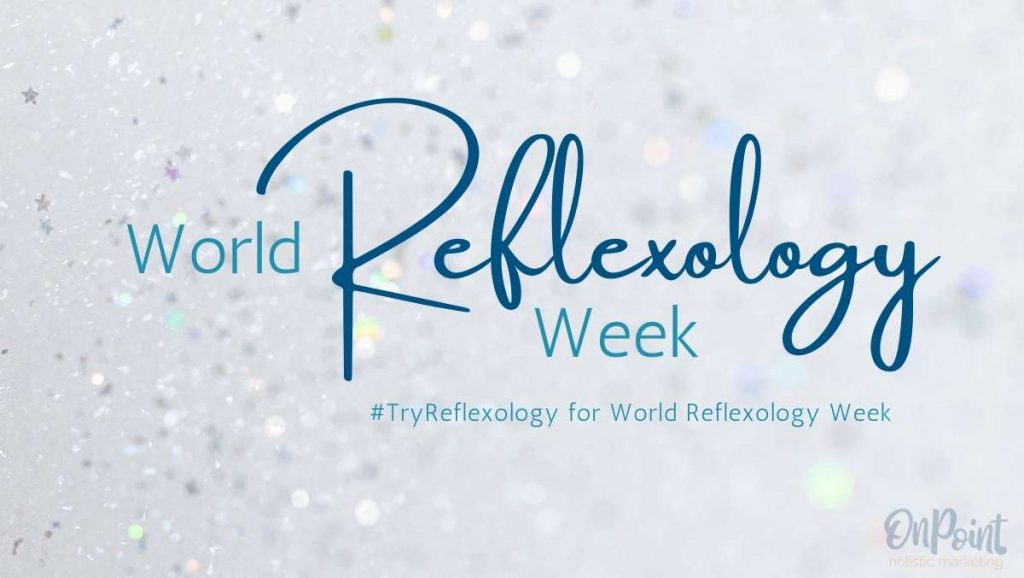 World Reflexology Week (September 20 to 26, 2021) is a great reason and motivator for you to spend the week helping new people learn about the amazing benefits of reflexology.
While typically a lot of reflexologists host special taster events where people can get a free or low cost mini session to see what it's all about things might be looking a bit different this year as we enter our 2nd WRW during the COVID-19 Pandemic. Open houses, giving presentations, or doing tasters in a high traffic area still might not be as feasible in many places this year with the Delta surge.
But don't let that hold you back. This week is the best excuse to build up some hype and introduce new people to reflexology! Plus there are still plenty of ideas you can pursue (and new virtual-friendly ideas too.)
(Join the email list to get additional support.)
[lepopup slug='5-free-graphics-inline']
World Reflexology Week Marketing Challenge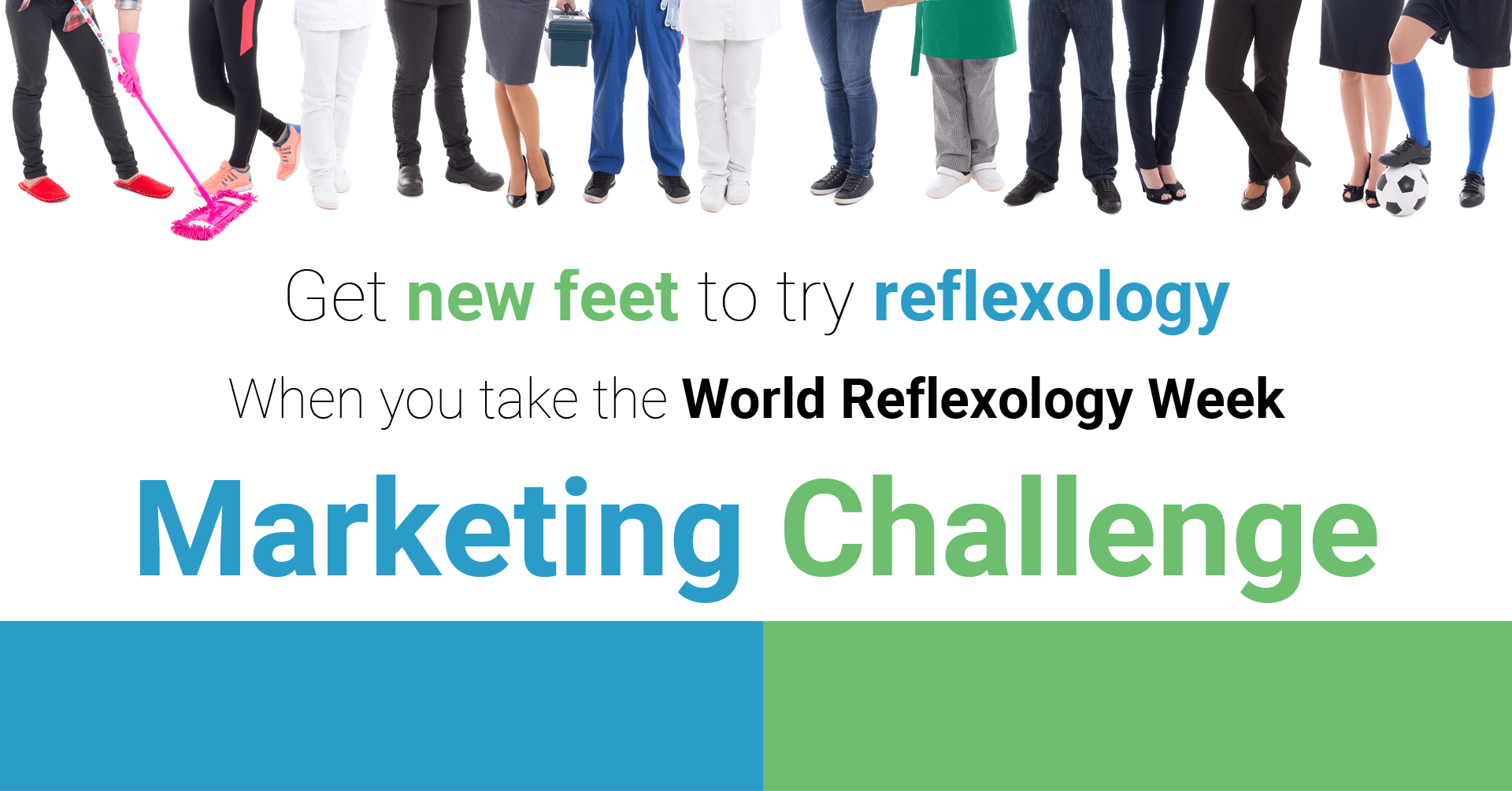 Can you commit to taking action by doing at least one thing during the week to raise awareness about reflexology and it's benefits?
World Reflexology Week is September 20 to 26, 2021
"Local Reflexologists Celebrate World Reflexology Week By Working On The Soles Of The Community." —ICR
Event and Awareness Ideas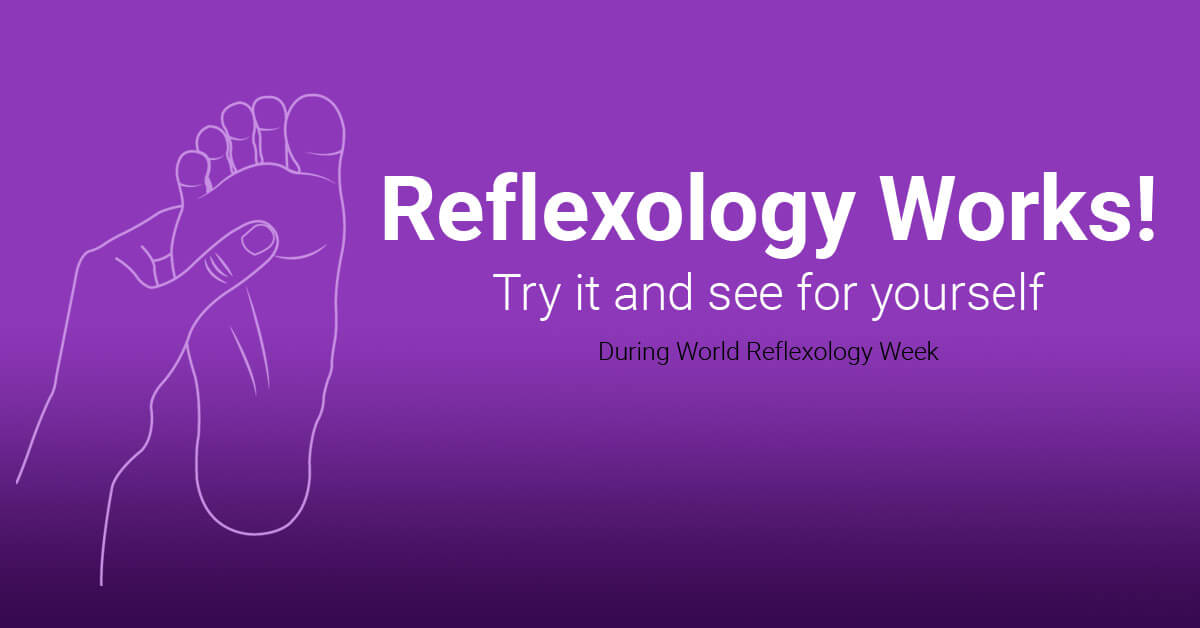 What is your plan? How will you create excitement for reflexology during the last week in September? In the past hosting some type of in-person events tended to be most popular, but there are many ways to celebrate and boost awareness for reflexology virtually too.
Event and promotion ideas (lower COVID-19 risk):
Ask your local government officials for a proclamation declaring it World Reflexology Week. This can be done by local mayors (pre-COVID in my city at least, the Mayor or City Council rep would get up with a local person connected to the proclamation and they'd say a few words about it at the start of the city council meetings. The meetings are broadcast on a local TV station, a local radio station, tweeted out by reporters, and viewed in person, so there some decent chance for extra exposure, this could lead to the local media talking to you for a story too). State Governors also do proclamations, this might be best approached by your state's reflexology association. While I'm giving examples for the US government structure, I think this could work for other countries too.
Do a Facebook Live (or Zoom call, etc.) instead of in-person presentations. Treat this like a real event and promote it by creating an event on your Facebook page, email your list, etc. letting everyone know what you'll be talking about and when to build up attendance. You can encourage people to create watch parties too.
Record a video of you doing reflexology or talking about it and upload to your social media accounts and your website. You can record it on your phone, you don't need any fancy equipment, just be willing to give it a shot!
Schedule an interview with the local media to talk about the benefits of reflexology. (Check out our publicity resources too.)
Host a contest to win a free reflexology session, or a package of sessions.
Run ads to promote the benefits of reflexology.
Get your clients involved by asking them to tell a friend (or 20) about the benefits of reflexology.
Host a virtual open house (Facebook Live, Zoom, etc.) where you can offer still offer door prizes, walk people around the office with your phone, answer questions, etc. about reflexology, your background, and your business.
Offer new client specials for anyone who calls to book during the week. (In general, I don't like discounting your service to get business, but once a year for new clients to try you can be a good promotion.)
Give customer appreciation gifts, and this doesn't have to be a big thing… you could just have some small treats to recognize them and celebrate the week.
Make it an outdoor event such as mini sessions in the park.
Create a social media campaign designed to encourage others to share and talk about reflexology.
Write a blog post for your website.
Offer to write a guest post on local blogs or other local business' websites, or ask them to write about their experience with reflexology for their blogs.
Create a special promotion or offer to encourage people to join your email list.
Contact at least 3 clients for a testimonial to share during the week on social, your email list, add to your website, send to the media, etc.
Connect with a local group whose members would benefit from reflexology (runners groups, garden clubs, moms groups, church groups, military spouses groups, etc.)
Post a celebration video or photo of yourself. You can dance, sing, cheer, eat a foot shaped cake, do reflexology on yourself, or whatever, just to do something fun that will be sure to get lots of engagement as your social media followers support you celebrating a week dedicated to reflexology.
Be a walking billboard and wear something proclaiming your love for reflexology and your business. (Check out these wearable reflexology marketing designs if you don't have something.)
Count how many feet you've helped this year, in the past 5 years, or for your whole time being a reflexologist!
Write a letter to the editor of your local newspaper.
Try something new, for example if you mainly use Facebook, try making some connections on LinkedIn or Instagram, etc. or go somewhere new or different (wearing your reflexology shirt is even better) and talk to new people or reconnect others.
Think beyond your regular social media sites for something as big as World Reflexology Week, take a few extra minutes to share your social posts on your Google My Business listing, Nextdoor (list of countries where it's available), LinkedIn, and any other sites you have a personal or professional profile (Instagram, Twitter, TikTok, YouTube, Facebook groups, Pinterest, Reddit, etc.).
Check out the tips in the post, "Make Your Reflexology Practice Go Digital (During the Quarantine)" to help you switch what would have normally been an in-person event to a virtual format.
Event and promotion ideas (traditional ideas):
Host an open house.
Offer special upsell or add-ons such as hand reflexology, hot stones, etc.
Speak about reflexology to various groups.
Post fliers around town.
Contact a few local businesses to see if they'd like you to offer mini sessions for their employees (or volunteers at a nonprofit, etc.).
Partner with a nonprofit to where you collect donations or donate proceeds, etc.
Volunteer at an organization such as a cancer center, senior living center, women's shelters, or other place where many people can benefit.
Attend networking events (most will let you attend as a guest once or twice without joining).
Attend any event where you can meet and interact with new people and mention that you're a reflexologist and it's World Reflexology Week.
Keep in mind, if some of your plans don't work out for WRW this year, maybe you can use them for International Stress Awareness Week which is the first week in November.
Taster sessions
The most common WRW event I typically see is a taster or mini session event. Some hold them in their business, in public places, in conjunction with other businesses, or have a group of local reflexologists host a joint event.
Personally, if there's more than one reflexologist in your town, I love the idea of holding an event with all of you participating. It's definitely more newsworthy and likely to build up better exposure for reflexology as a whole. I'd love to brainstorm all the ways to make this an amazing event in the Reflexology Marketing Facebook group with you!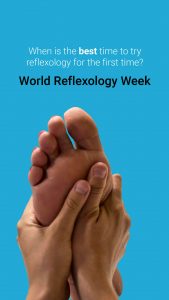 Looking for a place to offer paid or free mini sessions? Here are a few to get the ideas rolling:
Farmers market
Craft show booth
Wellness fair booth
Locally owned pharmacy (many local ones or compounding ones tend to be more holistic health focused)
Chiropractors office
At a race, fundraising walk, or other sporting event or competition
At a holistic practitioner's office
At your local library (most give free conference rooms to the public if you don't charge for your event)
Health food stores
The mall or a shopping center with good traffic
Local book stores
Running or shoe stores
Physical therapist offices
In the local park (check to see if you need a permit or permission first)
Promotional Materials
You can get a package of free social media graphics to use during the week too. It's FREE to all members of the Reflexology Marketing Facebook group. Join now to get your free graphics and suggestions on how to use them. (Updated 2021 graphics (not reflected below) that are editable in Canva will be available soon in the group too.)
There are several versions of each graphic theme to give you variety. They are designed to work as stories (what's that?) and regular posts on Facebook and Instagram, but most can also be used on other social media sites and all that is spelled out in the guide to using the images.
How else can you promote your event or activities to celebrate the week?
Once you've planned your event, head over to the Event Marketing checklist to help you maximize your event's exposure >> This list breaks down all the marketing activities and when to do them.
To get the media (newspaper, TV and radio stations, etc.) involved check out the 4 Steps to Free Publicity here >>
Additional resources
This year's resources from the International Council of Reflexologists (ICR) include:
Sample press release
Example letter to employers
Activity tips
The American Academy of Reflexology site has a WRW page (the owner Blill Flocco created World Reflexology Week when he was president of the ICR) that gives an overview of the intention and spirit behind the week, and ideas help promote global acceptance of reflexology.
FHT members have access to some promotional materials
OAR has a page listing member events and I think member resources too
See examples of events happening in Australia via the Reflexology Association of Australia Facebook event and a couple of listings are on their 2018 event page
Comment below with your ideas! What will you do to celebrate the week and create more awareness of reflexology?
Business is Closing
Thanks for your support. Website content is available until March 15, 2022. Please disregard any mentions of the More Feet Club, the email list, or other paid services.